Giveaway #7: Word Building Mats
Apr 19, 2010
This post may contain affiliate links. Additionally, remember that I am not a doctor and any health statements must be verified by your doctor. Read my full disclosure policy
here
.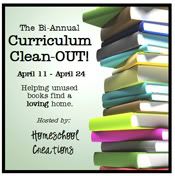 My bloggy friend, Jolanthe, is having a Curriculum Clean-OUT over at her blog, Homeschool Creations. And since I have recently been in the business of cleaning, decluttering, and simplifying, I thought I would join in on this great big giveaway–perfect timing, too, since I am giving away a lot of stuff right now.
So what curriculm am I offering you?
Now I paid $23.99 for this little book . . . which would be quite a savings for you. All you need to do is make up your own letter tiles or purchase these nifty little things . . .
Alphabet Letter Tiles
Wanna win? Leave a comment . . . share a thought. I'm keeping it easy this time.
You could Tweet about this post if you want to earn an extra comment. Just let me know the address to your tweet.
P.S. Contest ends April 30, 2010 and open ONLY to US residents.