My Morning Pen Routine
Jan 14, 2015
This post may contain affiliate links. Additionally, remember that I am not a doctor and any health statements must be verified by your doctor. Read my full disclosure policy
here
.
There is the potential for me to use 22 pens each morning. All sorts of glorious colors.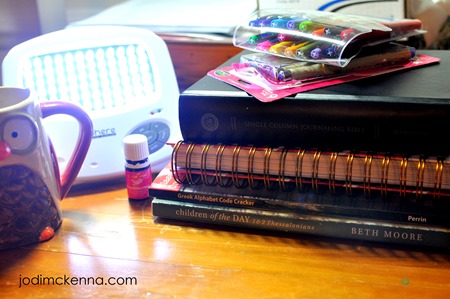 I thought I had simplified things. I have been making trips to Goodwill and selling things on Instagram. Chucking things we havne't used in over a year. I long for space and margin in our home. It also helps to manage my sensitivity. (Learn more about Highly Sensitive People here.)
Apparently, a reduction in my army of pens is not one of them. I tried to use my Pigma Micron 01 pens for my Inkwell Press planner, and it just wasn't happening. My handwriting looked like I was shaky with caffeine. The picture really doesn't reflect reality, but when do pictures really capture the full truth?
So I switched to my Papermate Flair Felt Tip pens, the very ones my grandma used. Except she only used red and blue Flairs. Occasionally you would find a green or black felt tip pen, but she didn't leave those out for us to use. I'm blaming her for my pen fetish. She also is responsible for why I like various sizes of paper and SMALL books and cute containers.
I found the best price for a set of 6 Pigma Micron 01 pens on Amazon about the same time I purchased the ESV Journaling Bible. While I am not on the same Bible reading plan as my accountability partners, I wanted to be using the same Bible and having a similar experience allowing Scripture to come out in pictures and expressive thoughts. I'm reading John and a Psalm and Proverb a day, in addition to studying Greek and doing Beth Moore's study called, Children of the Day.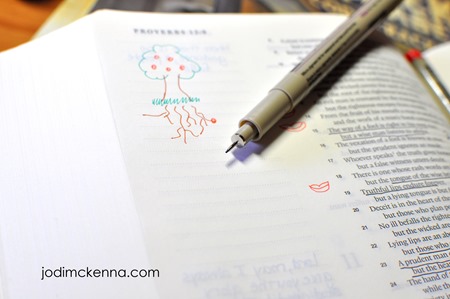 While I'm at it, here is what the morning routine looks like these days:
Wake up between 5:30 – 6 am. I did succeed at rising at 5:05 on Monday!
Drink Ningxia Red.
If there is time before 6 am, have some Brickhouse coffee and sit in front of my Happy lamp. (Read more about this glorious invention here.)
PiYo workout with The Engineer.
Breakfast – eggs and hot sauce
Bible Study . . .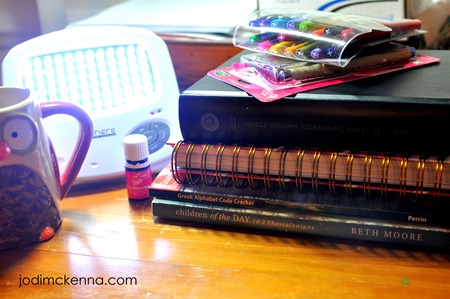 These are all of my tools:
So, that's my morning life.
Do we share any similarities? What pens do you like to use?