30 Days of Thankfulness: Day 4
Nov 4, 2009
This post may contain affiliate links. Additionally, remember that I am not a doctor and any health statements must be verified by your doctor. Read my full disclosure policy
here
.
Connie, over at From the Heart of My "Haus" is celebrating 30 days of Thanks during the month of November. Be sure to visit her blog and link up with us as we celebrate God's goodness.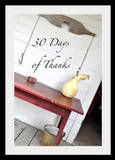 I am thankful for . . .
1. Mr. Me-Too, who said, "Will you play trains with me?" He wanted to play with ME!!! (I felt like Rudolph when Clarice told Rudolph that she thought he was cute. He lept for joy!)
2. I got to sleep the ENTIRE night last night.
3. The boys slept until 8 AM and 10 AM respectively. It was a quiet morning. Mr. Smackdown was at his Mama and Papa's house being fed ice cream!
4. I got to have a good laugh. Mr. Me-Too told me that the difference between a boy and a girl is the color of their thermometer. Mine has a pink cap and his has a blue cap.
5. My MIL brought me a decaf latte and then I left to go blog and grocery shop by myself.
6. I had such a sweet note in some books I received from www.paperbackswap.com today. I love using www.paperbackswap.com because sometimes you learn the history of the book. Neat to know the memories associated with a book.

7. Nemo, our new fish, is still alive.

8. I'm making fondue tomorrow night and it's not even New Year's! (We always have fondue on New Year's Eve.)
9. God loves me.
10. I snuggled with Mr. Smackdown this afternoon and heard about all his escapades while he stayed at Mama's house. He told me all sorts of details. It was great.
and there's more today . . .
11. My husband is great. Sorry I haven't shared many thankful things about him. I typically write my post during the day, so I haven't seen him but to pray with him before he left for work.

12. Mr. Smiley's silly laugh. If you smile, he will smile . . . or he will try and get you to smile.

Please leave a thankful comment at these lovely ladies who are also blogging about thankfulness . . .

Are any of my flesh-in-blood, I can give you a hug, blogging friends thankful? I haven't heard from you . . . hint hint.