30 Days of Thanks: Day 1
Nov 1, 2009
This post may contain affiliate links. Additionally, remember that I am not a doctor and any health statements must be verified by your doctor. Read my full disclosure policy
here
.
Connie, over at From the Heart of My "Haus" is celebrating 30 days of Thanks during the month of November.
I think it is a great idea and you should join her/me in practicing gratitude. I even made you a little picture that you can copy and paste the code from my sidebar into each of your posts . . . or even the emails that you send out.

that's a great idea

. . . if you don't blog, send out a daily

Thankful Email

. . . Be sure to include me,

thegranolamom4god at gmail dot com

.
or just write down what you are thankful for in a journal.
But please do visit Connie, and leave a comment, because she started all of this! I don't want to steal her thunder, but give her the credit and idea that God placed on her heart!
My friend,
Beth
, also does a gratitude post every Friday with a list of 10 things that she is thankful for. I LOVE reading it each week! (That is why I have included 10 things that I am thankful for.)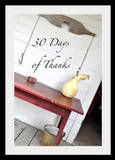 I am thankful for Mr. Smackdown, who is sitting beside me right now. He is watching football with his daddy, and just saw an advertisement for a juicy hamburger from Burger King. Wanting a hamburger myself, since early this morning and in preparation of getting serious tomorrow about losing weight for our anniversary trip (oh, and for the glory of God–thanks

Lord's Table

), I asked Mr. Smackdown if he would eat a

Steak-n-Shake

hamburger (because that is what I really want to eat). He replied, "If it doesn't have any meat on it." Silly boy–that would defeat the purpose.
The Hottie Hubby made my chai for me this morning and brought it up to me while I was getting ready for church.
All of our leaves are raked (for the time being) and in the compost pile. I loved that my engineering husband created a fence barrier to contain the leaves so that they wouldn't blow into our neighbor's yard.
I'm thankful for the mental picture I captured of the Hottie Hubby taking a nap with Mr. Smackdown and Mr. Me-Too.
I love how Mr. Smiley signs thank you, while saying it with his mouth closed.
I am grateful for Julie who suggested we use DryBee's Fleece Nighttime diaper. I know this sounds silly, but you have no idea how this has helped our night time cloth diapering delima.
I'm thankful for all of the comments I received on the post I wrote over at Healthy Moms.
I am grateful for our new fish, Nemo, that the boys won at the Harvest Festival at our church.
I am delighted at how much the boys enjoyed sharing the love of Jesus last night to those who came to our door.
I am very grateful to God for keeping us healthy and daily providing all of our needs.