30 Days of Thanks: Day 10
Nov 10, 2009
This post may contain affiliate links. Additionally, remember that I am not a doctor and any health statements must be verified by your doctor. Read my full disclosure policy
here
.
Connie, over at From the Heart of My "Haus" is celebrating 30 days of Thanks during the month of November. Be sure to visit her blog and link up with us as we celebrate God's goodness.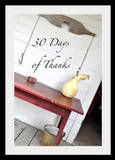 I
am
thankful that . . .
I didn't take a shower, but I was OK with that. I don't think anyone could tell. It helped that I got dressed by 9 AM!
My mom surprised me yesterday and asked me if I needed help for today. An amazing answer to prayer is what her little email was to me. And help she did! Thanks, Mom!
Mr. Me-Too and I went on a little date to our Herbalist, Mary-Beth. We then enjoyed filling our shoe-boxes for Operation Christmas Child.
The boys loved their new animal herbal eye pillows from coop, and went to bed right away!
I didn't feel sleepy today even though I was up with Mr. Smiley about 4 times last night. (Sorry for my late night sighing and stomping last night, Hottie Hubby.)
I am thankful that a few people do read my blog. Though I would like an "award" or even be nominated . . . it doesn't matter. Right? Right. That isn't why I began blogging. I did it for the money. Not! Just kidding around with you.
My husband makes me laugh. He guessed my movie line in a previous post. Therefore, he wins the granola that I am going to be making.
I am free.
I own a part of a cow (hopefully the udder) and receive GREAT milk every week. Thanks, Luke . . . and thanks coop family!
I finally made a binder of the boys' AWANA verses to leave at the kitchen table to easily review their verses at meals.
BONUS: I am watching The Biggest Loser right now. (But I think the contestants are heartless. Shay NEEDS to be on the Ranch!)

Please leave a thankful comment at these lovely ladies who are also blogging about thankfulness . . .