30 Days of Thanks: Day 11
Nov 11, 2009
This post may contain affiliate links. Additionally, remember that I am not a doctor and any health statements must be verified by your doctor. Read my full disclosure policy
here
.
I am looking to be thankful today. All 5 of my senses are alert. I won't falter today . . . or sit staring at the screen for 1/2 hour just to list 10 things to be thankful for. (Editor's Note: It actually took 4 hours to write this . . . life happened.) The Grouch Bug will not bite me. Instead, the Happy Bug is unleashing his rainbow merriment, or so I am telling myself.
Connie, over at From the Heart of My "Haus" is celebrating 30 days of Thanks during the month of November. Be sure to visit her blog and link up with us as we celebrate God's goodness.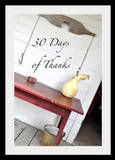 I
am
thankful . . .
For my little boys who have taken over 400 pictures today. Thank the Lord for digital cameras. Can you imagine if I had 400 images to print from a film camera? The camera Mr. Me-Too is using . . . is a print camera,

without the film

, and he could care less. That is a beautiful and active imagination for you. In fact, he would RATHER use his imagination camera than the digital camera that provides instant results. As promised to the munchkins, I have (back) posted some of their photography. Please leave a comment for them.




I actually took a shower at 6 AM. And no, we aren't going anywhere today.

Mr. Smiley slept the entire night and is still asleep (10AM).

I got to read a small portion of Honey for a Child's Heart in preparation for my new weekly post entitled,

If You Give a Mom a Book

.

My new dishwasher is currently being driven to our local Menard's store. I can't WAIT to meet her and introduce her to my dishes!

We snuggled in bed and read Cinderella. I like that story.

I am enjoying Jasmine tea.


I am thankful for all of the Veteran's who have fought in the various battles our country has been involved in throughout the years, risking their lives, so that we might live in freedom.

I am so glad that nap-time comes around ever

y day.

Nemo is still alive.

Mussie hasn't eaten any food that I am made. She has eaten some garbage, but that doesn't cause nearly as bad smelling farts.


For those of you who asked what the Animal Herbal Scented Eye Pillows were that lured my sons to sleep and have provided delightful entertainment today . . . meet Lady Cat and Toby-Hawk. I think they have a lavender/chamomile scent. I must admit that they (the pillows and the boys) went to sleep significantly quicker last night. We shall see if we have a repeat performance of that tonight.


Please leave a thankful comment at these lovely ladies who are also blogging about thankfulness . . .I've included three new ladies!