30 Days of Thanks: Day 13
Nov 13, 2009
This post may contain affiliate links. Additionally, remember that I am not a doctor and any health statements must be verified by your doctor. Read my full disclosure policy
here
.
Connie, over at From the Heart of My "Haus" is celebrating 30 days of Thanks during the month of November. Be sure to visit her blog and link up with us as we celebrate God's goodness.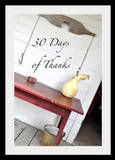 I
am
thankful . . .
I posted my first If You Give a Mom a Book about our reading of

Cinderella

.
I am forgiven by my Savior and children.
My children are still alive.
My dog and Nemo are still alive.
My husband is still alive, but I didn't get mad at him today.
I am going to be reviewing a product that I am really excited about.
I am going to go sit and read

Pride and Prejudice

after I write 10 things I am thankful for.
Mr. Me-Too forgives quickly. But I wonder if our conversation really sunk in.
My dishes are all clean. Just in time for the new dishwasher.
I get to see my friend, Tina, tomorrow.
Yes. I am having another hard day. Sorry.

Please leave a thankful comment at these lovely ladies who are also blogging about thankfulness.