30 Days of Thanks: Day 14
Nov 14, 2009
This post may contain affiliate links. Additionally, remember that I am not a doctor and any health statements must be verified by your doctor. Read my full disclosure policy
here
.
Connie, over at From the Heart of My "Haus" is celebrating 30 days of Thanks during the month of November. Be sure to visit her blog and link up with us as we celebrate God's goodness.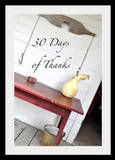 1.  I gained some insight as to why yesterday was such a horrible day.  This morning my little Tigger, Mr. Me-Too, woke up with a fever.  It appears we are re-living last weekend through a different child.
2.  I had coffee with a old friend (former prayer partner, accountability confidant, roommate, bridesmaid . . . pretty much you name it kind of friend) Auntie Tina.  It wasn't nearly long enough.
3.  I have dinner in the Crockpot.  Originally, I was going to babysit, but due to the present sickness, I am staying home tonight.  Sorry Casey.  But praise the Lord, Sue Gregg Chicken Spaghetti Sauce will be ready at dinner.  No cooking for Jodi!
4.  I walked into our house last night rather disgusted by the residue of a toy tornado, after spending time with some lovely ladies for a baby shower.  (At said baby shower we spent most of the time talking about the
DivaCup
–which if you haven't registered to win . . . you really should
do your body a favor by clicking on this long highlighted text
.)
Like I was saying, I came home and inwardly groaned and outwardly rolled my eyes (because no one was around).  The house was a wreck!  As I rounded the corner to our kitchen, my eyes beheld a wondrous site.  Before me stood the most amazing looking man installing my brand new dishwasher.
5. I woke up to a clean kitchen with clean dishes contained inside my new dishwasher.
6.  I have a working dishwasher.
6.5.  Did I mention I have clean dishes?  I am running another load of dishes right now.  So exciting.  I am officially an old married woman with children.
7.  Due to an overabundance of coupons, I saved almost $40 at JoAnn Fabrics to sew some new baby slings for my
etsy site
.
I am particularly excited about one fabric that I bought.  I think it was a risky purchase.  But I went out on a limb.  I figured that there had to be one woman in the world who had a baby and loved Charlie Brown Christmas.
8.  I spent some refreshing time in God's Word this morning studying Psalm 78.  Wow.  It is long. 
9.  I find great pleasure in taking out the kitchen compost.  Not only does it de-clutter my counter, but I feel wholesome and granola.  I like to make dirt.  I am thankful that we live on a lot where we can have a
compost pile.
10.  I get to snuggle with the good looking man who installed my dishwasher and watch a movie tonight.  (Sorry Casey—I really hope that you found a babysitter.)
Please leave a thankful comment at these lovely ladies who are also blogging about thankfulness.