30 Days of Thanks: Day 15 (belated)
Nov 16, 2009
This post may contain affiliate links. Additionally, remember that I am not a doctor and any health statements must be verified by your doctor. Read my full disclosure policy
here
.
Connie, over at From the Heart of My "Haus" is celebrating 30 days of Thanks during the month of November. Be sure to visit her blog and link up with us as we celebrate God's goodness.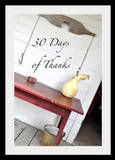 Getting to watch 4+ movies, in a row! I have always wanted to indulge in this positively lazy activity. A local video store has free children's movies. Sickness does have its perks.
I loved the questions and comments that were raised while we were watching the movie,

Earth

. "Oh, look. Him there he goes. He gets his dinner. Watch!" as a cougar pounced on one of God's precious gazelles, I believe.
A husband who

wants

to play nurse to his children

and

nurture them. I really think that he does a better job than me. He is truly compassionate and unselfish.

My mom made us over a gallon of applesauce. I just can't make it like her.
After searching high and low for the movie Cinderella, I finally asked my sister if she had the movie. I don't know why I didn't ask someone sooner who actually had girls!
I sewed a sling for my sister-in-law, ironed all of the other sling fabric, and began cutting! Watch out etsy site! I'm going to be putting some pictures up on you soon!
I

love

to hear Hottie Hubby talk. Not only is his voice melodic to me, but I love that he includes me (

me

!) in his thoughts and decisions. Yesterday, we spent a considerable amount of time discussing his commuter bike (it's between a Cannondale and a Fuji, any opinions out there?) and planning our anniversary holiday trip.
The Hottie blessed me by allowing me to sleep in yesterday.
I have experienced true concern as a parent the past week that I have never felt before. I have had to make decisions that I don't enjoy. But through all of this I am reminded of Psalm 23. I am thankful that God loves my children even more than me. Through all of our unexpected and unwanted sickness, I have been greatly reminded how much I love my quivers.
Psalm 23
A psalm of David.
1 The LORD is my shepherd, I shall not be in want.
2 He makes me lie down in green pastures,
he leads me beside quiet waters,
3 he restores my soul.
He guides me in paths of righteousness
for his name's sake.
4 Even though I walk
through the valley of the shadow of death,
I will fear no evil,
for you are with me;
your rod and your staff,
they comfort me.
5 You prepare a table before me
in the presence of my enemies.
You anoint my head with oil;
my cup overflows.
6 Surely goodness and love will follow me
all the days of my life,
and I will dwell in the house of the LORD
forever.
Please leave a thankful comment at these lovely ladies who are also blogging about thankfulness.