30 Days of Thanks: Day 23
Nov 23, 2009
This post may contain affiliate links. Additionally, remember that I am not a doctor and any health statements must be verified by your doctor. Read my full disclosure policy
here
.
Conny, over at From the Heart of My "Haus" is celebrating 30 days of Thanks during the month of November. Be sure to visit her blog and link up with us as we celebrate God's goodness.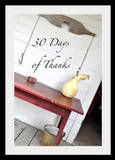 I
am
thankful for . . .
A fun morning with my little boys making partridges, listening to the

12 Days of Christmas

at least 20 times, and watching them gobble their edible pear trees (future blog post for MamaBzz!)
Excited boys who jumped at the idea of going grocery shopping for Aunt Nickel. They made a care package for Nickel's kiddos and were extremely helpful at Costco.
Christmas music and lots of it.
A fun shopping trip with noisy boys speaking yelling the only 4 words of Spanish that they know throughout the store.
Having lunch with our friends, making fake Chai for Nickel, and holding Baby Nathaniel.
Managing to stay relatively calm though I was feeling slightly suffocated this afternoon.
Having the ingredients necessary to make a wholesome dinner tonight at the last minute.
A husband who likes my cooking, even when my children turn up their noses.
A night out with some cool ladies discussing

Pride and Prejudice

. I feel quite sophisticated tonight. Hopefully, I will be able to share pictures with you tomorrow on Sarah's blog!
Using my brain.
A husband who lets me go be a literary junkie, stays at home, and completes our next Instant Challenge!
Please leave a thankful comment at these lovely ladies who are also blogging about thankfulness.