30 Days of Thanks: Day 3
Nov 3, 2009
This post may contain affiliate links. Additionally, remember that I am not a doctor and any health statements must be verified by your doctor. Read my full disclosure policy
here
.
Connie, over at From the Heart of My "Haus" is celebrating 30 days of Thanks during the month of November. Be sure to visit her blog and link up with us as we celebrate God's goodness.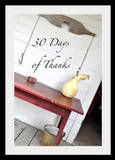 I am thankful for . . .
No caffeine. No headache. This is a miracle.
I'm thankful for chatting with my MIL this morning and her delight to spend the day with Mr. Smackdown.
I loved hearing Mr. Me-Too play with trains with his Nana.
I'm thankful that the Hottie Hubby shoved me out the door tonight to have dinner with some friends and during that meal he texted me about the sprouted crackers I asked him to finish and bake for me.
I'm glad Biggest Loser is on right now. It inspires me.
I'm thankful that God loves me so much that he helps me with the little things, like resisting temptation.
I took a shower today before 4 pm.
I love nights that the Kissing Bull and the Runaway Hot Dog are played.
I'm thankful that I found a CD that was due at the library today and I thought I had lost it.
I'm super thankful that my mom finished my chicken stock for me and took the meat off of the carcass. It was nice to not have to do it for once.
I'm thankful for a lot more things. But I'm ready to spend time with the Hottie Hubby and not the computer.
Come back for more Thankfulness!