30 Days of Thanks: Day 5
Nov 5, 2009
This post may contain affiliate links. Additionally, remember that I am not a doctor and any health statements must be verified by your doctor. Read my full disclosure policy
here
.
Connie, over at From the Heart of My "Haus" is celebrating 30 days of Thanks during the month of November. Be sure to visit her blog and link up with us as we celebrate God's goodness.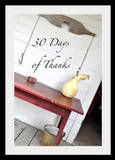 I am thankful for . . .
the two little boys who feel asleep on the couch this afternoon. I am thankful that I listened to my mothering instinct and just let them curl up on the couch. They look precious. It is always a gift to catch your children sleeping so sweetly, snuggled in safely under a parent's watch.
our outing into the woods for our Nature Explorers lesson.
talking with my friend, Tina, who was very patient as I continually interrupted her to spot a nest, roll a log back, or unhook the boys from thorns.
It is an honor to be famous for a brief moment in time with an article published about what God has done in and through our family.
Lord willing, I will be having some fun fondue tonight–though the sleeping boys are slightly cramping my housekeeping responsibilities right now.
Praise God for giving people talent to create classical music. Beautiful music is wafting throughout our house along with the smell of a baked pumpkin.
I finally washed my favorite brown hooded sweatshirt.
Nemo is still alive.
I actually woke up early (5:30 AM) and spent some time in the Word

BEFORE

the boys woke up. Precious. It fueled me for the day. I love the Psalms.
My dishwasher may not work, but I have running water to wash my dishes by hand. (Is it wrong to pray that H.H. Gregg or some famous dishwasher company would give me a new dishwasher to review? Am I getting greedy?)

Please leave a thankful comment at these lovely ladies who are also blogging about thankfulness . . .

Are any of my flesh-in-blood, I can give you a hug, blogging friends thankful? I haven't heard from you . . . hint hint.