30 Days of Thanks: Day 6
Nov 6, 2009
This post may contain affiliate links. Additionally, remember that I am not a doctor and any health statements must be verified by your doctor. Read my full disclosure policy
here
.
Connie, over at From the Heart of My "Haus" is celebrating 30 days of Thanks during the month of November. Be sure to visit her blog and link up with us as we celebrate God's goodness.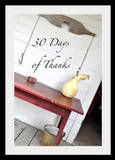 I
choose
to be thankful for . . .
I
will
bless the Lord at
all
times;
His praise shall continually be in my mouth.
My soul
will
make its boast in the Lord . . . .
Psalm 34:1,2a
a hard day
two ear infections instead of H1N1
my mom made me lunch
my sons gave me knee kisses while I cried
when I am weak, tired, angry, frustrated . . . God is my strength.
I have a husband who is adventuresome and biked to work today. I wish he were home, but I am proud of his endurance and sustainability.
The fondue party was fun with lots of good fellowship.
My friend's ultrasound showed signs of a healthy baby!
It is the beginning of the weekend.
It is almost bedtime.

Please leave a thankful comment at these lovely ladies who are also blogging about thankfulness . . .