5 Minute Friday: Real
May 4, 2012
This post may contain affiliate links. Additionally, remember that I am not a doctor and any health statements must be verified by your doctor. Read my full disclosure policy
here
.
Go
Real is telling you that I failed.  Again.
Failed at losing weight.  Failed at my own challenge. 
The good news is that I have gotten back on my feet again.  So on my feet that I'm learning some new moves.  Fancy footwork is what I am talking about.
A turbo fired, I'm gonna make you pee in your pants type of workout.  Seriously.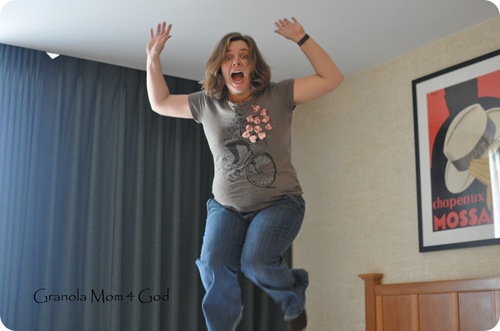 That's real honesty for you. 
Real is telling you that losing weight doesn't come in a box.  It is a state of mind.  A plan.  And good nutrition.  It's not a quick fix.  It's a constant lifestyle.  A desire to change. 
Real is having a friend over and opting to spend time in the Word, rather than making my house "look" clean before she comes. 
Real is being a cheerleader and realizing that the one you are cheering should be behind you and not in front of you.  But you swallow your pride.  And spur them on. 
Real is posting this blog post even when I feel it doesn't measure up to what is really in my heart but I fail to produce the words.  Feeling inadequate.  Tongue tied. 
STOP
Please consider joining me here.  Linger.  Make a new recipe.  Enter a giveaway.  Be real. 
And dear subscribers, how I would love to hear from those of you who lurk.  Come out of hiding.  I dare you to.  Let me help you.  Go to Granola Mom 4 God.