A Birthday Party for Beatrix Potter
Jul 1, 2012
This post may contain affiliate links. Additionally, remember that I am not a doctor and any health statements must be verified by your doctor. Read my full disclosure policy
here
.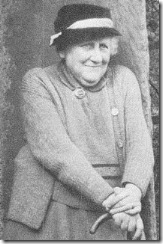 It can be said that there is nothing new under the sun.  As it relates to Beatrix Potter, I can not add any more to the information about her, but inspire you to put her name on your birthday calendar.
And to entice you to join me in putting the World of Peter Rabbit on your wish list.  23 books.  All delightfully capable of fitting in the palm of your hand.
I adore small books.
A Beatrix Potter Cheat Sheet
Born: July 28, 1866
Birth Home: No 2, Bolton Gardens, Kensington, in London
Siblings: Bertram, brother six years younger
Parental Involvement: minimal . . . a part of her bedtime routine
Teachers:  governess and art tutors
Upbringing:  Potter came from a wealthy, Victorian family.  Her parents were largely absent from her childhood.  She spent the majority of her time in the nursery that was later converted to a school room.  Beatrix had multiple pets including a dog, a rabbit, and mice that traveled with her in boxes.  Most summers were spent in Scotland where she spent much of her time observing nature.  At the age of 16, her parents vacationed in the English Lake District that quickly endeared itself to her heart.
Love:  Beatrix's first love was with her editor, Norman Warne.  Much to her dismay, Norman proposed.  They had to keep their engagement secret for a period of time.  However, he developed leukemia and died before they were wed.
Not to be daunted by this, Beatrix used her money to purchase land in the Lake District.  She bought a piece of property called Hill Top, that is the scene for several of her books.  Love did find her once again several years later, and she married her solicitor, William Heelis.
Interesting Fact:  She liked to keep her authorship a secret.
Number of Book Written: 23
Children:  none
Death:  Beatrix Potter died in 1943.  She left 15 farms, Hill Top, and over 4,000 acres to the National Trust, an organization dedicated to preserving historic sites and the environment.  You can still visit Hill Top today.
Free Beatrix Potter Resources
I have A Collection of Beatrix Potter Stories loaded on June, my Kindle.  This collection includes nine book, albeit MINUS the pictures.
However, if you used these free notebooking pages from The Notebook Treasury, allow your child to illustrate what he or she envisions in the television of her mind and then compare it to the actual book.
(Side note:  You could make up your own set of notebooking pages using The Notebook Treasury Notebook Publisher that allows you to create and design unique notebooking pages for your family.)
Delight your eyes, with this sweet survey of Beatrix Potter illustrations.
Beatrix Potter Websites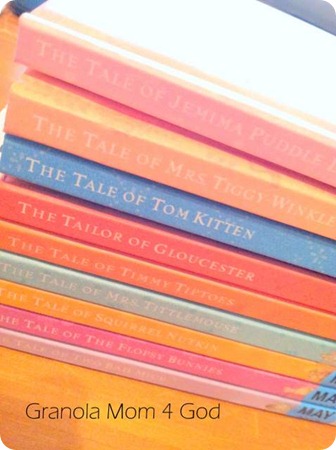 Beatrix Potter Coloring Pages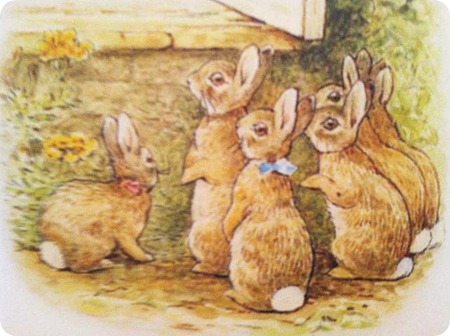 Rent the Movie!
If you would like to watch something sweet tonight, you can watch Miss. Potter instantly on Amazon Video for $2.99.
Written by Richard Maltby, Jr., "Miss Potter" explores the life of Potter (Renee Zellweger), the author of beloved and best-selling children's book The Tale of Peter Rabbit, her struggle to overcome a domineering and unsupportive mother and the chauvinism of Victorian England to become a published author. – Amazon
To see who else was born in July, head on over to iHomeschoolNetwork July Birthdays, where many blogging homeschoolers hang out.