To make your search easy, I have compiled a list of all of the times I have written about Therapeutic Grade Essential Oils.  This list will only continue to grow, as I learn more and have time to share with you.  One thing I can promise with certainty, is that using these oils will effect change in your life.  
Essential Oils are one of the many gifts that God has left on earth to promote natural healing.  A substance that when used doesn't cause harm, like many pharmaceuticals, but healing and wholeness.

If you are interested in using essential oils or becoming a distributor, I would love the chance to chat with you.  You can email me at thegranolamom4god at gmail dot com.  I would love to have you be a part of my growing Young Living family.  
31 Days of Essential Oils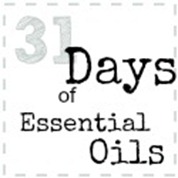 31 Days of Essential Oils