Have you ever heard of the healing effects of Essential Oils?
Have you used Essential Oils BUT don't understand the chemistry and science behind their effectiveness?
Join us for a seminar featuring chemist, Dr. David O'Brien.  Dr. O'Brien will share why Therapeutic Grade Essential Oils (TGEO's) have a God-created ability to heal the body, soul, and mind.  Seminar topics include:
Discovering the importance of using TGEO's versus fragrance oils;
Learning why you need a carrier oil to apply TGEO's;
Exploring the benefits of the Compass Bio-Survey to reveal what Essential Oils your body needs.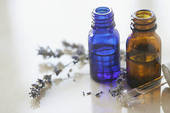 Who is Dr. David O'Brien?
For more than 50 years Dr. David O'Brien has studied, taught and worked in the field of Chemistry. He received his Associate and Bachelor of Science Degrees in Chemistry from Rochester Institute of Technology. He was granted a PhD in Polymer and Inorganic Chemistry from the Notre Dame University where his research centered on the synthesis, characterization and study of Chelating Polymers.




During the early 1960's, Dr. O'Brien developed advanced computer components for the guidance systems of the Saturn moon rocket and the Gemini spacecraft at IBM's Space Guidance Center.  He formulated new high performance engineering polymers during his years at Celanese Research Company and was granted several Patents for these unique polymer materials.
What is a Compass Bio-Survey?*
This cutting-edge technology affords you the opportunity of having your body communicate it's current healthpriorities and nutritional supplement preferences. Now you can achieve your health and wellness goals sooner while saving money too. Keep your health on course with an assessment every 90 days.
Pre-Register at http://naturallyhis.eventbrite.com/
Cost of Seminar: FREE
Where:     Harrison College, 8150 Brookville Road, Indianapolis, IN 46259
Date:          Friday, June 15, 2012
Time:         5 pm—7 pm (Bio-Survey Testing)
7 pm –9 pm (Seminar)
Who:          Anyone is welcome to come and learn more about  therapeutic grade essential oils.  This is an  informational seminar, NOT a sales pitch.
Special Note:  There is a nominal $15 charge for the Compass Bio-Survey evaluation.  If you wish to be evaluated prior to the seminar, contact us at NaturallyHisIndianapolis@gmail.com to schedule an appointment.
We look forward to meeting you!