Are you Desperate?
Jan 7, 2013
This post may contain affiliate links. Additionally, remember that I am not a doctor and any health statements must be verified by your doctor. Read my full disclosure policy
here
.
There are times in my mothering career that I have been desperate. Barely clinging on.
Like the fifth time I got mastitis.
Months on end of living off of minimal sleep.
A new baby, a dying dog, and a little boy who jammed his tooth into this skull directly in front of me . . . as if in slow motion. All occurring within a short time period.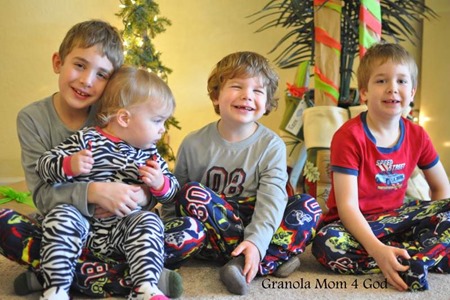 Postpartum depression so deep that on several occasions I nearly drove myself and the miraculous children (I had prayed YEARS for) into a telephone pole . . . and rarely ventured out of my house because of.
Eating, eating, eating – because this I could control.
Losing a baby.
I know desperate.
I have been there. Sometimes I revisit this place.
And so do other moms. Maybe even you.
Sometimes desperation can take form in the annoyance of another pile of laundry, dishes in the sink, a lack of a social life, a shirt wet from breast milk due to a forgotten pad (not that this EVER happened to me), stepping on a small Lego that should have been put away, or the husband late for dinner . . .
The seemingly endless slew of groundhog days.
An Online Book Club Accouncement
While I have climbed out of the desperate pit (on most days), I invite you to sojourn with me (and my friend Amanda from thepelsers.com) as we wrestle with the very real challenges we women face in our role as mothers.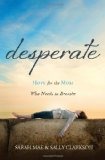 We will be reading the book, Desperate: Hope for the Mom Who Needs to Breathe. (You can snag your copy at Amazon in paperback or Kindle.) And if you desire a FREE journal (besides the one Amanda and I made), Dayspring is giving away a journal with any Desperate book purchase.
What is Desperate About?
This book allows you to be a fly on the wall and read the intimate thoughts of a desperate and struggling mom. As she, Sarah Mae, pours out her heart to Sally Clarkson, Sally responds with grace, exhortation, and encouragement.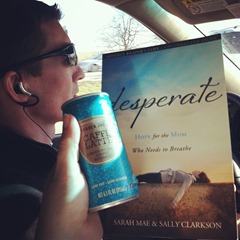 It is the kind of shepherding we all need. And for lack of better words, are desperate for.
Do you struggle with depression?
Are you struggling in your role as housekeeper?
Have you ever experienced embarrassment in what seems a lack of knowledge be it on mothering, being a wife, or disciplining your children?
Does the endless stream of dishes, meals, laundry, and toys grate on your nerves?
Is your standard too high?
Are you doing your job alone?
Then go get your book. And even if you didn't answer those questions, yet you are a mom, go get your book.
A Sample Letter From Sally
While Amanda and I are not Sally Clarkson or Sarah Mae, we invite you to pour yourself a cup of coffee or make a pot of tea and join us in an online book club.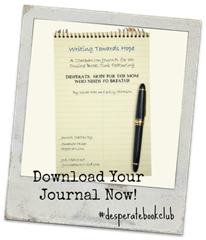 Better yet, invite your IRL friends to join you as you hold personal discussion in your family room or at Starbucks. (There are actually prizes when you purchase your book(s) this week over at the official book website.)
Mentorship and Discipling
I suppose I am assuming you don't have a mentor. I know that I have never had one though I have tried to find someone to disciple me numerous times.
Regardless of my track record, I have still tried to grab a warm body and live life with them. Investing in their walk with God. Use this book to mentor your little group – take the time to invest in each other's mothering, while you begin to seek out that older, wiser mom to encourage you.
And then . . . you can take that mentor you found to Sally Clarkson's house . . . and chat IRL with her and Sarah Mae. (To enter this sweet giveaway, visit the Desperate Book Spa Mentoring Weekend giveaway.)
Action Steps