B.E.E. 90x Challenge: Always True Giveaway
Feb 21, 2011
This post may contain affiliate links. Additionally, remember that I am not a doctor and any health statements must be verified by your doctor. Read my full disclosure policy
here
.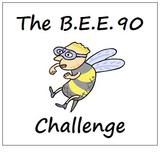 The espresso basket was tipped ever so precariously in the machine yesterday morning.  At first glance, the handle looked twisted correctly into place for the perfect brew. 
But it wasn't.
Unfortunately, it was tilted.  The front of the basket was connected . . . but the rear dangled in midair exposing grounds . . . and eventually providing the channel for the overflow of liquid espresso.
Gritty puddles of hot espresso formed small ponds on the kitchen counter. 
A failed attempt. 
Rewind fifteen minutes.  I had asked the Hottie to make me a mocha (cocoa powder, raw honey, raw milk, and decaf espresso if you are wondering) with a voice filled with a yawn from a late night, fully knowing that he already had countless demands tugging at the elastic of his waist line.
I wanted his attention, too.  Thus, I asked for one of his amazing lattes.  There is just something about someone else making something for you. 
Fast forward to post-coffee flood.  As I cleaned up the black mess, I felt the heat of guilt creep into my cranium.  The poor man . . . he was already busy with three boys anxious to consume the Hottie's every waking moment with superhero play.  And each second that ticked by that lacked his undivided attention, it was as if it turned our children's voices into howling coyotes. 
Like a good martyr, I said, "Don't worry about it.  I'll clean it up."
Inside my head I was thinking, "I shouldn't have asked anyway.  Like we have time.  We have to get to church.  But still . . . he could have argued with me.  He should have said something like, 'No, no, Jodi.  I want to bless you.  I know how much you love me to make you a coffee.  It's no bother.'"
Instead, "Dadddyyyyyyyyyy, I'm still hungry."
The mocha lay forgotten on the counter along with my heart.  Yes, I know I am being dramatic.  But this silly, stupid accident . . . .sent my selfish thoughts into a thick froth.  The kids voices sounded like the high shrill squeal of skim milk being steamed.
I wanted to snap.
Instead, Miss Naomi began crying . . . which was actually a welcome relief.  She is easy to appease.  Change her diaper, nurse her, cuddle.  Simple.  Easy. 
But as I sat in her room, I moped.  I sulked.  I brooded.
God, I'm sick of all this. 
I'm tired of being fat.
I'm tired of failing to memorize scripture.
I don't want to yell anymore.
I'm tired of not taking a shower for days.
I'm tired of never working out.
I'm tired of wearing the same two outfits.
I'm tired of not having our school days planned in advance.
I'm tired of unfolded laundry lying around.
I hate how grouchy I am.
I'm tired of always feeling guilty.
I'm tired of always being negative.
I'm tired of all the things I keep failing to do. 
And then it hit me. 
I often think my problem is my children. 
But my list of "tired's" wasn't my children.  They all reflected myself.  Me. A certain me that didn't include the Lord.
Saturday night, we attended the quarterly adult dinner hosted by my MIL and FIL.  As we sat around the painstakingly decorated and elegant table, each family member took turns asking a scripted question from The Conversation Cube.
This cube contained the types of questions that I always asked others . . . but that night I dreaded revealing the truth about my heart . . . my state of mind. 
A particular question was posed that has percolated through my thoughts ever since . . .
"What is your greatest accomplishment?"
I had a Bullwinkle moment.  "Dugh . . . jee . . . I don't know.  Never."
I know some of you might think I am being hard on myself. 
But I'm not.  A great accomplishment is something that happened as a result of the Lord.  Sure, I've given birth naturally 4 times, lived through a miscarriage, dealt with significant nursing issues, fought against PCOS and thyroid disease, climbed a 14,000 foot mountain, camped above tree-line, survived India transportation . . . but I desire an accomplishment that truly sustains itself for years to follow.
All I feel like these days is like a wind-up Cracker Jack toy.  I sputter around for 12 hours and then prematurely unwind before the day is through. 
However, my SIL (who is going to be featured soon for B.E.E. 90x) said that her recent weight loss was her biggest accomplishment. 
Folks . . . the gal lost over 90 pounds. 
90 pounds.
That is perseverance.  Anyone who has ever struggled with a significant weight problem understands the battle that my SIL fought.
In response, it was said to her that she had accomplished something H.U.G.E.  She had radically changed her
habits. 
She made a life change.  Dying to her old patterns.  Refusing to stay the same.  Choosing something opposite of insanity. 
Like the sharp slap of steam being pushed through the frothing wand, I felt stirred. 
I have to change.  I don't just want to.
I. Have. To. Change.
I can't use my kids as an excuse anymore.  They are a blessing.  (Please tell strangers to stop saying that I have my hands full, because I am beginning to believe them.) 
I can't use my lack of sleep.  I can't use the dog ate my homework excuse (though Ruth does eat about anything and everything.)
If I want to be happy –  if I want to enjoy life – if I want to value my kids and have a good relationship with them – if I want to be the highlight of my husband's day –  if I want to be a reflection of my amazing God —
I. Have. To. Change.
Time to get rid of the idols.   
Food.  Sleep.  The Blog.  Coffee.
What's yours?
Banishment. 
I. Have. To.  Change. 
It won't be easy.  It won't be quick.  But it must happen.
My inclination is to be silent.  I'll do this under my own power. 
Look where that has gotten me thus far.
No where. 
I'm worse off now than when I started B.E.E. 90x.  Worse.
That's dumb.  That's pride.  That's idolatry in my life.
On Sunday my pastor said, "Life that is wrapped up in itself is a very small package."
Hmmm. . . .
"Pride is the only disease that makes everybody sick but yourself."
I don't want to be that girl.
Ugh.
I hate change. 
But I have to change.  Five little verses have given me a benchmark.  Five promises.  (Thank you James MacDonald for pointing these out.) I may paint them on our walls.  And though I am a believer in Jesus Christ . . . in some ways, I feel like I am taking baby steps all over again. 
(I know – she matches well.) 
I have to fortify.  I have to grab hold of some solid truth so that I don't despair.  I don't want to sink into the pit I know all to well.  I've been there three times and I don't wish to return as much as my body may desire to dwell there. 
And I'm going to cling to these verses. 
I'm going to work through them. 
I'm going to apply them.  Mainly because James MacDonald said so in his book, and I figured he should know.  I don't have the time to go searching right now.  I need a quick application.  One to put into practice now.  Like a drive thru Starbucks.  Give me the drive thru Bible application, Lord.
It is the Lord who goes before you.  He will be with you; he will not leave you or forsake you.  Do not fear or be dismayed.  (Deuteronomy 31:8)
Trust in the Lord with all your heart, and do not lean on your own understanding.  In all your ways acknowledge him, and he will make straight your paths.  (Proverbs 3:5-6)
And we know that for those who love God all things work together for good, for those who are called according to his purpose. (Romans 8:28)
No temptation has overtaken you that is not common to man.  God is faithful, and he will not let you be tempted beyond your ability, but with the temptation he will also provide the way of escape, that you may be able to endure it.  (1 Corinthians 10:13)
No weapon formed against you shall prosper, and every tongue which rises against you in judgment you shall condemn.  This is the heritage of the servants of the LORD, and their righteousness is from Me," says the Lord.  (Isaiah 54:17)
I need to start believing God.  I need to start clinging to Him again.  I'm swimming in my coffee grounds because I'm not spending time with Him. 
Instead, I should use the time it takes to make my coffee to drink in His Word of a morning . . . or afternoon. 
I've got to be ready.  Prepared.  To make changes, I've got to believe God.  He is always true. 
It's a powerful book.  As you can see . . . it's been shaping my thoughts.  I want to be like a firmly planted tree.  (Psalm 1) Impossible to be uprooted.  Impossible to kill.  Because I know that no matter what . . . God is Always True.
By the way, you can win this book.  I've got an extra one to send to you, thanks to the great people working with Moody Publishers and C. Grant Company. 
Leave me a comment. 
Tweet about it and leave me a comment. 
Put my blog button on your blog.
Become my fan on Google Connect.
Giveaway ends February 27, 2011. 
It's a good book.  I'll send it anywhere mail can go.  Yes, shipping is being paid by me.  But a second copy of the book was given to me.
How has your B.E.E. 90x been?