Christmas Roses: A Review
Nov 24, 2012
This post may contain affiliate links. Additionally, remember that I am not a doctor and any health statements must be verified by your doctor. Read my full disclosure policy
here
.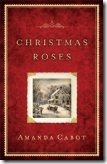 It's a beautiful thing to sit down on a cold night with a cup of hot chocolate in front of the fire. With a fuzzy blanket. And a nice husband – who also wants to be non-social . . . and read a book.
On such a night I read the book, Christmas Roses, by Amanda Cabot.
Sometimes we as humans have a tendency to ask God for a miracle. But God often uses the ordinary to answer our wish or heart's desire.
Main character, Celia Anderson, owned a boarding house. A traveling carpenter found his lodgings in her house. Over time, this stranger became a friend, often helping with things around the house and becoming a fire side companion.

Celia had a wish – a dream – and quite frankly was asking for a miracle. She wanted the next man that she loved to bring her roses for Christmas. At that period in history, this present would have been impossible. However, a certain carpenter made Celia's wish come true.
Read how Celia's dream comes true when you download your Kindle version or purchase your hardback copy.
My copy of Christmas Roses was provided by Revell. I was not paid for this post and all opinions are mine. I would recommend this book if you are looking for a sweet story that is a one night read.