Coconut Curry Chicken
Apr 17, 2014
This post may contain affiliate links. Additionally, remember that I am not a doctor and any health statements must be verified by your doctor. Read my full disclosure policy
here
.
Recently, the Engineer and I had a date. And we ate Thai food. I love Thai food. Thus, I had to make more of this coconut infused food this week. It is entirely possible that I could eat Thai every single day. However, the Thai food I had on our date required an fire extinguisher in my mouth.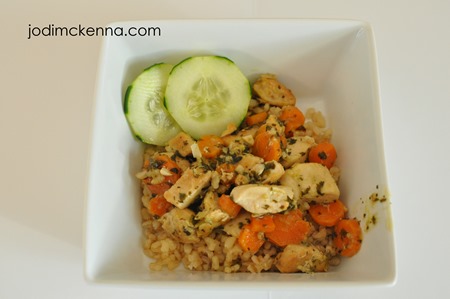 In order to accommodate the delicate mouths sitting at our kitchen table at home and a desire to facilitate a psoriatic arthritis meal, I tweaked multiple recipes to make this meal perfect for our family. This recipe is dairy and sugar free. And it has the option of being grain free too! It aligns with the Healing Psoriasis diet.
Coconut Curry Chicken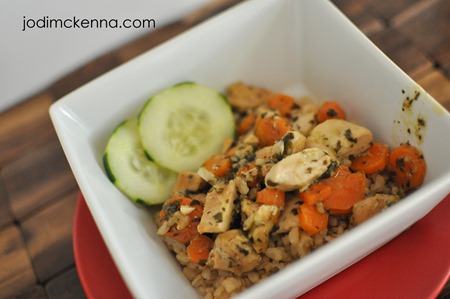 Ingredients
1 tablespoon coconut oil
1 lb chicken breasts, cut into bite-sized pieces
2 tsp lime juice or 1 tsp lime peel, or a drop of lime essential oil
1 tsp grated ginger root
1- 3 cloves garlic, finely chopped
1/4 cup chopped fresh cilantro
1 can coconut milk (I get this on Subscribe and Save.)
1 Cid-Botanicals Stevia packet
1/2 tsp Celtic Sea Salt
1 tbsp. Coconut Aminos
1 tbsp. fresh chopped basil
chopped carrots
(Optional: brown rice, cauliflower rice, or cucumbers – to serve as a base for your coconut curry.)
Directions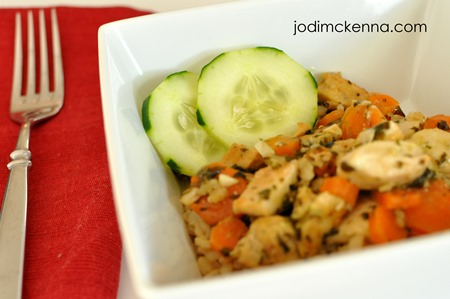 In a stainless steel skillet, melt coconut oil. Add chicken and fry the many pieces (which I like to cut with kitchen scissors) until chicken is no longer pink. 'Cause in this case pink is gross when it comes to chicken.
Add lime, ginger, garlic, and cilantro. Stir fry one minute.
Pour coconut milk over cooked chicken. Stir in stevia, salt, coconut aminos, and basil.
Reduce heat to medium and simmer. The duration of simmer is up to you!!! I simmered for 20 minutes and the sauce was heavenly.
Serve over brown rice, cauliflower rice from this cookbook, or scoop up with cucumbers.
Just so you know – I received the thumbs up from the kids on this recipe.
NOTE: You really can add all sorts of vegetables to this recipe, but we are eating more of a diet profitable for an individual with psoriatic arthritis. Other vegetables that would normally be included are tomatoes, bell peppers, pea pods, and Serrano chilies.