Coconut & Your Thyroid
Feb 25, 2013
This post may contain affiliate links. Additionally, remember that I am not a doctor and any health statements must be verified by your doctor. Read my full disclosure policy
here
.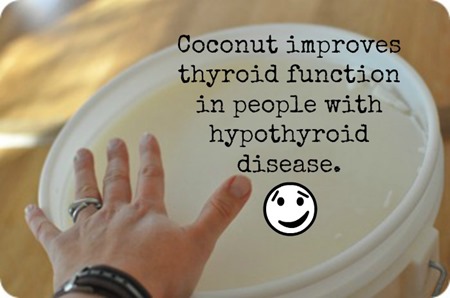 According to Dr. Mary Enig and Sally Fallon, authors of Eat Fat Lose Fat, "Coconut improves thyroid function in people with hypothyroid disease."
What else is coconut oil good for?
Our bodies can use coconut oil for energy quicker and more efficient than any other fat source. Coconut oil contains medium-chain fatty acids (MCFAs) that are not usually stored in your body as fat. For this reason, coconut oil is fabulous to use if you are trying to lose weight.
MCFAs enable cells to communicate with each other.
Countries where coconut oil is more widely used have a lower rates of heart disease and cancer.
Coconut oil helps fight infections of all kinds.
Some people even claim that coconut oil helps eliminate the body of cellulite.
(To learn more about coconut oil, I encourage you to check out Eat Fat Lose Fat. I keep giving my copy away and having to purchase a new one!)
Where Do I Get Coconut Oil From?
By the way, Tropical Traditions (the only place I purchase ALL of my coconut oil from) has free shipping today. Currently you can buy one pints and get one free,
BUT quite honestly, in the long run it is cheaper to purchase a 5 gallon tub. I used to do this and split it among a group of friends. These days, I purchase it by myself, because we use so much coconut oil in the kitchen and topically.
And with FREE shipping – well, it makes spending $135 more palatable.
Pure Coconut Oil – 5 gallons
Use coupon code 25213 for FREE SHIPPING (today only)
5 gallons typically lasts me at least 6 months.