Feeding Your Brain
Jul 7, 2012
This post may contain affiliate links. Additionally, remember that I am not a doctor and any health statements must be verified by your doctor. Read my full disclosure policy
here
.
Monday, many of you are joining me in saying,  "I Quit Sugar."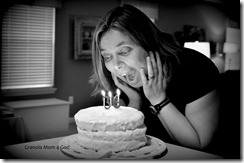 You are tired of feeling sluggish, would like to loose a few pounds, and improve your overall health.
You might dabble with this idea of I Quit Sugar for a day, maybe two, and then stumble, if you are anything like me.
You might even find yourself a little scared. 
I am Scared to Quit Sugar
This idea of being scared to quit sugar might seem ludicrous to some of you.  But not to a fat person. 
Yesterday, I found myself wondering . . .
What will I do?  I will have more time on my hands.  And more time means not escaping from whatever is stressing me out . . . driving me to make chai, steal an organic cookie from the pantry, eat an extra cheese stick. 
Conquering the bickering children in the car and savoring the learning moments at a grocery store will have to be made a priority, not a quick fix from the Starbucks drive-thru.
Quite literally I feel vulnerable eliminating sugar.  It may mean saying no to a birthday cake; which is like sitting naked at a table with a large sign around your neck, "Yes, I'm obese and I'm trying to lose weight."  We already knew the elephant was in the room.  Let's not give him our piece of cake, too. 
I am scared to quit sugar. 
What will I wear?  Where will I hide?  My world will be opened to so many new activities, things that I kind-of want to do, but still . . . sometimes my fatness allows me to remain lazy which can be nice.
Does anybody understand what I am saying?  Being fat is miserable but yet a comfortable friend all at the same time. 
A Word of Caution
So things must change. 
Luke 11: 24, 25 says this,
24 "When an impure spirit comes out of a person, it goes through arid places seeking rest and does not find it. Then it says, 'I will return to the house I left.' 25 When it arrives, it finds the house swept clean and put in order. 26 Then it goes and takes seven other spirits more wicked than itself, and they go in and live there. And the final condition of that person is worse than the first."
I share this with you because several weeks ago, I Quit Sugar.  But my diligence wore off due to going to a conference and choosing to not take the time to prepare nourishing sans sugar food.
My lust for sugar returned with a vengeance.  The angry candida that hadn't yet died, quickly repopulated and cried out for more, more sugar.  And I readily complied.
Because sometimes it feels good to eat sugar.  For a very very brief moment.  Likewise, sometimes sin feels luxuriously indulgent, until the consequences hit. 
Watch and pray so that you will not fall into temptation. The spirit is willing, but the flesh is weak.  Matthew 26: 41
A word of caution: quitting sugar is hard.  I won't lie.  But don't give up.  Email me if you begin to struggle.  Send me a tweet.  Resist temptation
No temptation has overtaken you except what is common to mankind. And God is faithful; he will not let you be tempted beyond what you can bear. But when you are tempted, he will also provide a way out so that you can endure it. 1 Corinthians 10:13
Saying "no" is like a muscle.  It hurts at first to use it.  You will experience longing for certain comfort foods that will ache like you just did 100 sit-ups.  BUT the best way to get rid of sore muscles is to drink some water, and use that muscle again the NEXT day.  The more you use this muscle, this tongue to say NO to the sugar that is robbing you of life, the stronger it will become. 
Don't buy the lie that you need sugar.  God did not make us for sugar.  In fact, it is only the last 100 years or so that sugar has become so commonplace.  Ever read Little House?  Sugar was a luxury!  I doubt Jesus used much sugar or honey.  Just saying.  I can't see that all this sugar is helping us out.
Feed Your Brain
I could go tell you what you should be feeding your brain nutritionally.  But Sarah Wilson covers that just fine in her I Quit Sugar book. 
I'm telling you that you need to feed your brain with quality thoughts.
Read your bible each time you have a meal.  Don't tell me you can't do this because you are a mom.  I have 4 kids and I can even do this.  Read the Word to your children.
Listen to Audible books.  Currently, I am listening to the below books on Audible:

Read quality books.  On my nightstand (or Kindle) are:
As you can see, I have cut out my vacation reading purposefully.  I find that my thoughts have improved.  I am no longer wasting my time on the frivolous.
I am feeding my brain with quality ideas, with the intent of producing a change or rather a redirect of old habits into purposeful thoughts for a lifetime of change.
What Are You Feeding Your Brain?
So, what are you feeding your brain these days?  I'll put it on my list of "brain food."
Won't you join me this Monday?  I have made such a big deal about this whole I Quit Sugar thing . . . I am committed. 
Say I Quit Sugar for one day.
Then repeat the next day.  Do this until you no longer crave sugar.  And then continue to flex the no muscles just a wee bit longer.