Fourth Grade Update
Mar 27, 2014
This post may contain affiliate links. Additionally, remember that I am not a doctor and any health statements must be verified by your doctor. Read my full disclosure policy
here
.
I have had to collect pictures over several weeks to write this posts. It appears that as some of my children grow in stature, the less they enjoy being in front of the camera. In fact, my fourth grader would much prefer being behind a camera filming short movies, building Lego kits, baking, or making useful objects out of paper.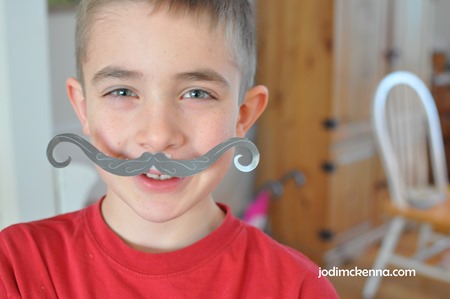 Asher's fourth grade year is rapidly coming to an end. His goal is to finish all subjects before we attend the Great Homeschool Convention (by the way, don't forget to get your ticket if you are attending the Cincinnati one! We are having a "meet-the-blogger" gathering). There isn't anything special about this April date – other than the kids LOVE my return because they missed me it is filled with free items for them and shiny new books – which is enticing to us bibliophiles.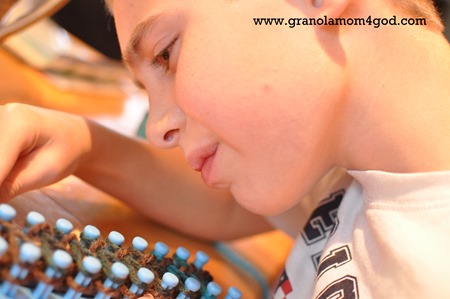 About My Fourth Grader
I love each one of my children in a different, yet passionate way. Asher is probably most like me, though The Engineer would probably challenge that statement and claim that Naomi and I are identical. (I so do not cry a lot and exaggerate or cry too much or run around the house in a swimsuit that doesn't fit with cowboy boots on. Oh, and I like my hair brushed.)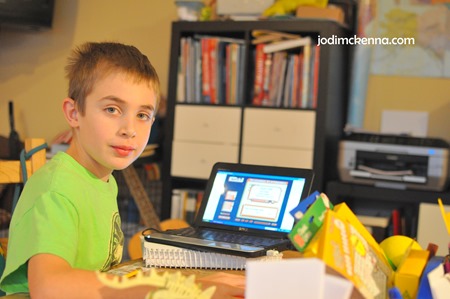 My eldest expresses himself through the keyboard via emails and with pencil to write encrypted notes that need to be decoded with a special decoder.
He likes S.T.U.F.F.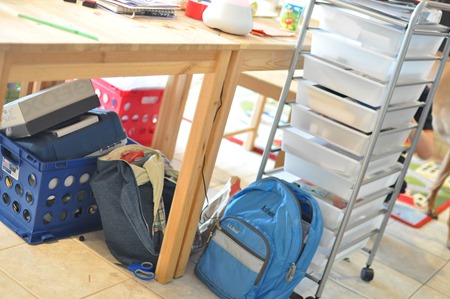 His love language is quality time (filled with lots of talking) and gifts (of which he loves to give . . . and receive). He is a calming influence but also the greatest instigator at times (I think is a first born thing – not that I mean anything by that dear, dear sister).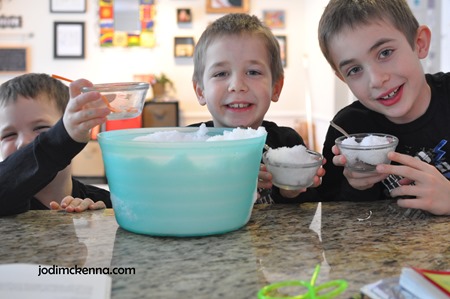 He has plans on becoming a Young Living Essential Oil Member when he is 18 and begin teaching classes (no, I did not brainwash him, he has just experienced them working.) He even has an essential oil diffuser on his desk (one of my favorite, by the way).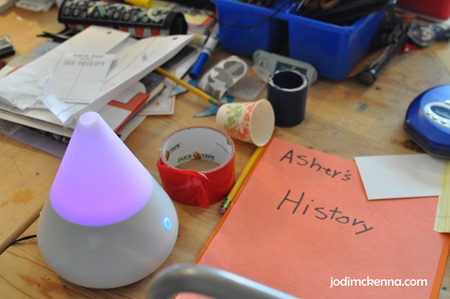 He has dreams (or visions) of being in a foreign country sharing the gospel. He has a sweet tenderness for his little sister and is desperately trying to teach his brothers how to have a REAL quiet time with Jesus. When that doesn't work, he bribes them with promises of chocolate. (Not that he learned this from me. Ahem . . . it was The Engineer.)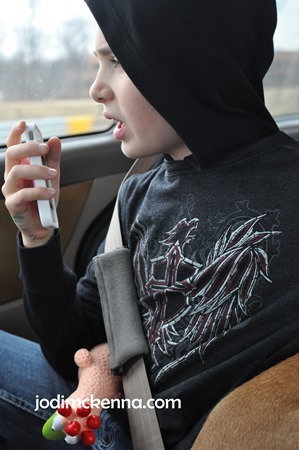 But enough . . . I could go on to write a book about how this boy has grown into a caring individual . . . a far cry from that colicky baby that was born over nine years ago.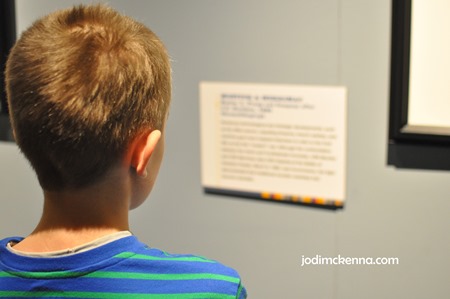 What Does a Fourth Grader Learn?
Math
Teaching Textbooks Level 5 was completed last week. Sadly, the last 3 weeks of the book were done without the computer because the beloved Neo died. Ezra is using the "schoolroom computer" and we haven't worked out a good sharing schedule yet.
Now, I want you to understand why my fourth grader was using a Level 5 book. Well, for the same reason that my second grader is using a Level 3 book. I simply think that the next level above (specifically Teaching Textbooks) is actually more reflective of what a fourth grader should be ascertaining.
Because Asher has not completed 180 days of school yet, he is continuing math with a self-guided study of the elementary series of the Life of Fred mathematic books.
All About Spelling Level 4
I adore our time in All About Spelling. It is fun teaching Asher the tools that refine his craft of writing. (Am I a nerd or what?)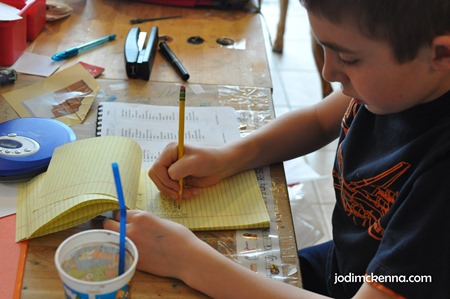 And Asher loves it because he gets to use one of his many notebooks that he is slightly obsessed with (you can find these cheaply at Costco).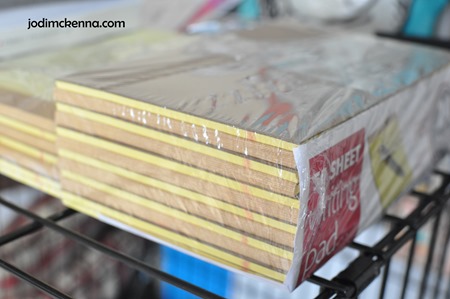 His favorite part is the creative sentences he is allowed to create using only the words the All About Spelling Level 4 book gives him. And, they are certainly creative, if not hilarious at times.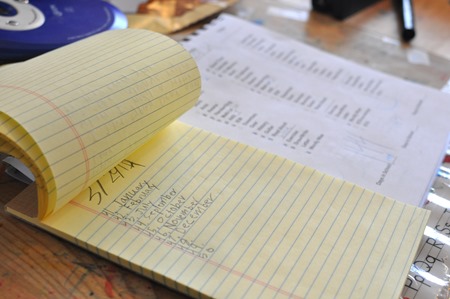 (That white bound book beside Asher's All About Spelling notebook, is how Asher records his school work. It lists all the subjects he HAS to get done and bonus learning. In this book he also documents what the date is and how many days of school he has completed. It has check boxes and that makes Asher and I happy.)
I haven't decided if we will take a break this summer from All About Spelling . . . or if we will use the very purple Level 5 book throughout the warm months. Asher has requested that we continue to do school, except for when his friend, Matthew, comes to visit.
Handwriting
I sometimes wonder if we have focused on cursive too much. He has been practicing script for two years now, without any emphasis on printing. I really need to force him to try reading joined-up writing to really make this art useful to his eyes and understanding. He finished A Reason for Handwriting D and is now working on Book E.
Classical Conversations
I am so thankful for the iPad app that Classical Conversations releases every September – though I wish it came out in August. All of the kids do much of their Foundations Memory Work using this tool. (I uses it as a tutor in my classroom, too.) We opted not to do Memory Masters this year due to placing more of an emphasis on completing Awana strong, which I shared with you in the 2nd Grade update.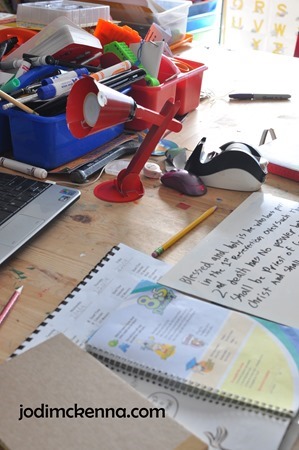 The last six weeks have been super fun, as the science experiments have involved constructing things – like straw bridges and egg protectors (still working on an effective design).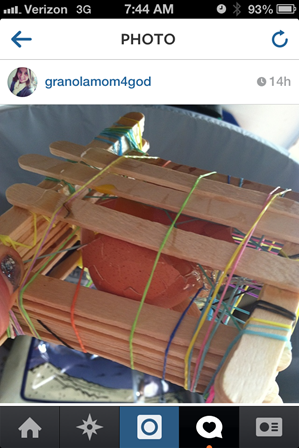 Most recently, Asher's afternoon class, Essentials, had a formal event where they dressed up and read a five paragraph research paper.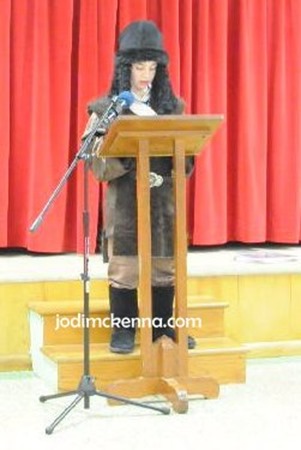 Asher chose Genghis Khan. And it was good. If I say so myself.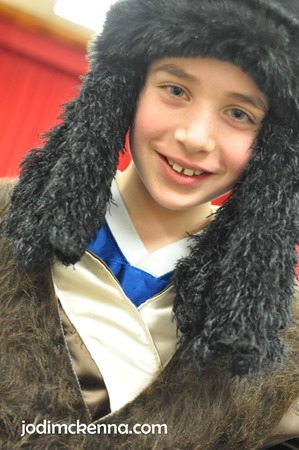 Visual Latin
We recently brainstormed as to why we enjoy Visual Latin . . . and while we couldn't land on any one specific reason why . . . we do.
We just do. It's funny.
Compass Classroom is currently having a contest to win an iPod; so Asher submitted a video (and you can too) to win this fun electronic device.
And . . . while filming Asher surprised me by saying, "I like Visual Latin because it will help me learn new languages. And I want to go to a foreign land and teach about Deus."
Be still my heart.
Mystery of History
What a GREAT book to learn history! We aren't doing all the supplements and crafty ideas that are in the toolbox of this curriculum, but our time reading is RICH!!! Mystery of History is the highlight of our school time on the couch!
Wordly Wise
Trudging along. That is all I am going to say.
Guitar
Ohhhhhhhh!!!! His first recital is this weekend . . . . at a nursing home.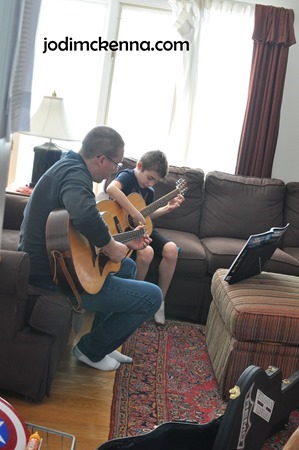 Recognizing actual tunes while he is practicing has been super duper fun. He just learned some chords this week, and is hoping to play in the children's worship band at church in the upcoming months.
Taekwondo
The big promotion test is coming up. But preceding that is Indy Cup. This will be their first BIG competition. A good training ground to see if they will want to pursue this sport for the Olympics. Yes, I did just say that because it has been discussed.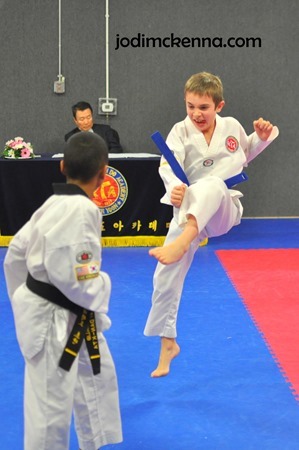 Gymnastics
I can't find a single picture to show you!!! For the record, this is not JUST a girl sport. Their time on the soft springy floor has improved their balance and core!
Awana
Asher finished his TNT book for this year . . . and is going for Gold. Which is a lot of writing. Lots of busy work . . . at times.
But is has been worth it.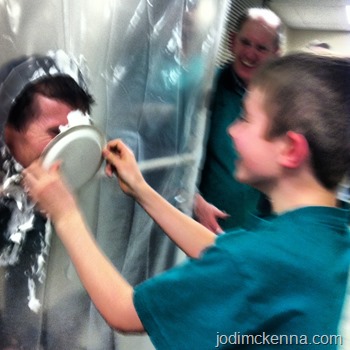 Last night was Pie in the Face Night. I think he enjoyed smearing whipped cream on The Engineer a bit too much.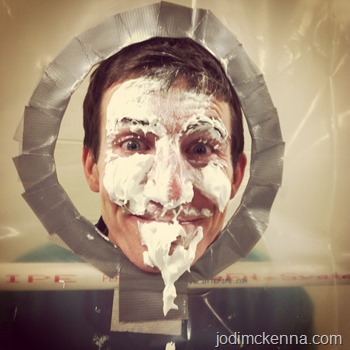 And that is a good place to stop . . . though our learning will continue.