Granola Mom's Favorite Granola Recipe
Jan 28, 2009
This post may contain affiliate links. Additionally, remember that I am not a doctor and any health statements must be verified by your doctor. Read my full disclosure policy
here
.


I love coconut oil and attempt to put it into anything and everything. I decided that it was silly to continue to buy granola at the store for a ridiculous price.
This is by far my favorite recipe because it is simple and it tastes good. It is easy to modify, my kiddos LOVE it, and my husband devours it (often with a handful of carob chips)!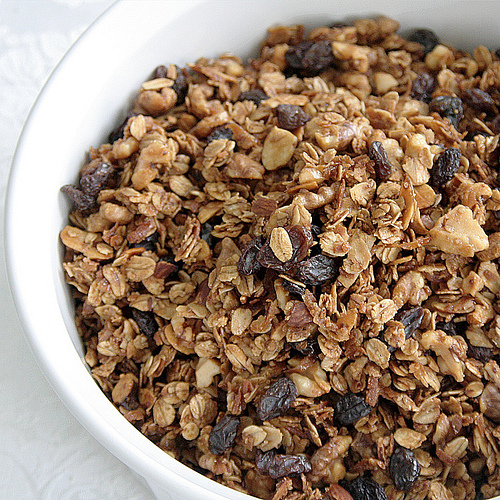 INGREDIENTS
8 cups organic rolled oats
1 cup unsweetened flaked coconut
3/4 cup chopped almonds (or any other type of nut you desire)
1/2 cup coconut milk
1/4 cup virgin coconut oil
1/4 cup olive oil
1/2 cup honey
1 teaspoon vanilla
1/2 cup dried cranberries, raisins, or dates
DIRECTIONS
Preheat the oven to 350 degrees F (175 degrees C).
In a large bowl, stir together the oats, coconut and almonds. Divide between two large baking sheets, and spread into an even layer.
Bake for 7 or 8 minutes in the preheated oven, until lightly toasted. Allow to cool for a few minutes, then return to the large bowl.
While the oats are toasting, combine the coconut milk, coconut oil, olive oil, and honey in a saucepan. Cook over medium heat, stirring until it comes to a boil. Boil for 2 minutes. Remove from heat, and stir in the vanilla.
Pour the syrup over the granola in the bowl, and stir until the dry ingredients are fully coated. Divide between the two baking sheets, and spread evenly.
Bake up to 40 minutes in the preheated oven, or until fragrant and toasted.
Cool in the pans, then mix in the dried cranberries or other dried fruit. Store in an airtight container at room temperature.
Please note: For every extra cup of ingredients add 2 tablespoons of oil and 2 Tablespoons of honey.
I encourage you to become a fan of coconut oil!  To learn more about the benefits of coconut oil, read Sally Fallon's book, Eat Fat Loose Fat.