Guest Post: Pursuit of Proverbs 31
May 4, 2012
This post may contain affiliate links. Additionally, remember that I am not a doctor and any health statements must be verified by your doctor. Read my full disclosure policy
here
.
Please welcome my IRL friend, Amy Bayliss.  She is traveling from blog to blog this month encouraging women and sharing a little bit more about her new book, The Pursuit of Proverbs 31 (which I read on my Kindle and loved!).
Having a support system is really beneficial because you realize you are not alone in areas you struggle with and you can encourage others where your strengths lie and vice versa; others can encourage you. We may not realize just how far support can go.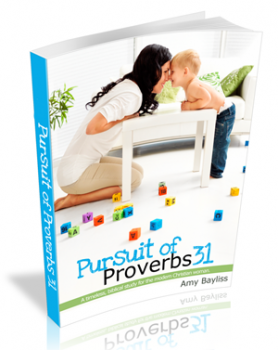 While I was pregnant I was given an abundance of clothes for boys
and girls. I had also received many baby things that I needed: bed sets, crib, slings, bath tub, bouncers, swings, etc. Some, our little one outgrew quickly and others we just had duplicates of, so I put things aside to sell when we needed the money. That day came and I sat in the midst of all of this stuff (organizing it and looking up the going rates on eBay, getting excited about the potential profit, and that is when I saw the email from Freecycle.
It said, "Needed: Crib for baby." I did have the fleeting thought that I should reply and offer ours but I heard Dave Ramsey in the back of my mind saying that if it can be sold then I need to sell it.

Then another email came in. It was from a woman who was pregnant and had a list of things that she needed. Most of it was stuff I had and I heard God whisper to my heart…I am giving you the opportunity to provide for several women who chose life instead of abortion.

I had to sit there for a moment to let it sink in. This was an opportunity. It wasn't the way I planned it, though. I thought God would bless us with lots of money and I could just go out and buy what these girls needed but God doesn't work that way.
While I was pregnant He put it on the hearts of other moms to give to me with the intention of allowing me to be a blessing to someone else later on. When it was all said and done, one person got the baby bed, someone else received the maternity clothes, another lady got a whole slew of girl items and clothing, some even new with the tags. Another girl got the boy bedding set, swing, some bottles I had but didn't use, and the cloth diapers. I even found some little girl's clothes that my niece could use.

When we support others and allow them to bless us, a beautiful thing takes place: the Body of Christ in ministry.  Sometimes we need to look outside our own sphere and realize how what we do have can bless others. It may not be "stuff", it may be time, it may be an encouraging word.
If you've ever wanted to tear the 31st chapter of Proverbs out of your bible this book is for you.
She is a wife, mom, business owner, seamstress, she serves the needy, speaks life and wisdom, and seems to be quite the major overachiever, perfectionist type.
Except that…she's not.

Come along and journey with Amy and take a look at the real woman of Proverbs 31. She isn't as perfect as she seems. In fact, I think she is a lot like you and me.
If you want the Kindle version, get it here: Pursuit of Proverbs 31 for Kindle (which is how I read Amy's book). You can also download the free Kindle app on your PC, iPad, iPhone, or many other devices.
For the downloadable, printable PDF version, get it here: Pursuit of Proverbs 31
Amy Bayliss

Amy is a small town Cajun girl living life in the big city. She and her husband Ryan have four children, all boys, ranging in age from toddler to teen! Amy is a full-time blogger and WP designer at My Southern Media. You can visit her at her personal blog, Cajun Joie de Vivre or you can follow her ramblings on Twitter and keep up with her mischief on Facebook.