Homeschool Happenings
Nov 2, 2012
This post may contain affiliate links. Additionally, remember that I am not a doctor and any health statements must be verified by your doctor. Read my full disclosure policy
here
.
I remember the realization I had one day that while I am living life, so are other people in other locations.  (Did you see the episode on Growing Pains when Kirk Cameron had this very same a-ha! moment?)  I guess I had always thought that time stood still for everyone else. 
Yes, this is rather egocentric, but I was five. 
School is Still in Session
However, you may have forgotten that we do school.  I have largely been quiet on this issue, failing to document or even take pictures. 
Shall we see what is going on when time stops at your house while we live and learn?
A Tot Does School
Sweet Pea has entered our school room.  She hasn't entered peacefully.  She brings a tornado with her.  I mean that in the kindest manner possible.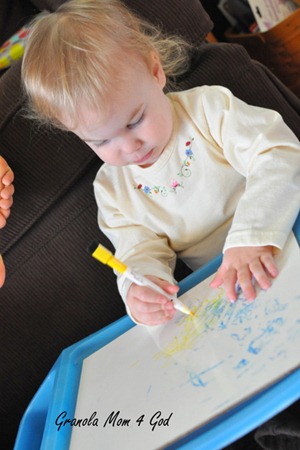 My favorite aspect of Sweet Pea's presence, is the fact that she can listen in on our Grapevine Studies Bible lesson (Joseph).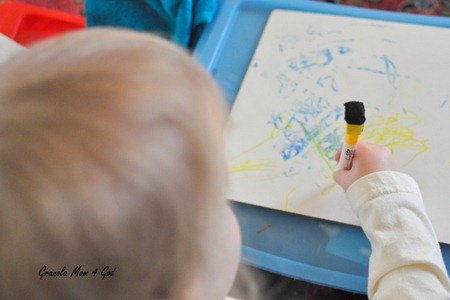 Sure, she isn't drawing the perfect Joseph, but neither do I.
Scripture plainly states, "God's Word does not return void." (Isaiah 55:11)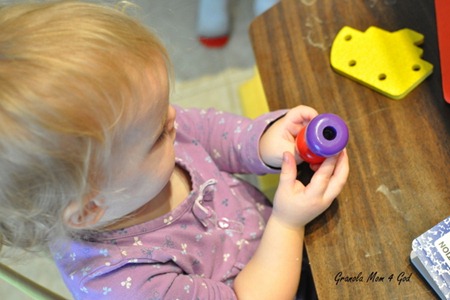 Mr. Smackdown frequently uses her snack time to accomplish is daily reading.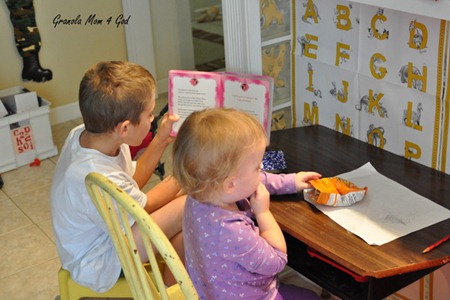 Which makes my heart melt.
Preschool Ponderings
He wants to cut his hair.  I really don't want him to.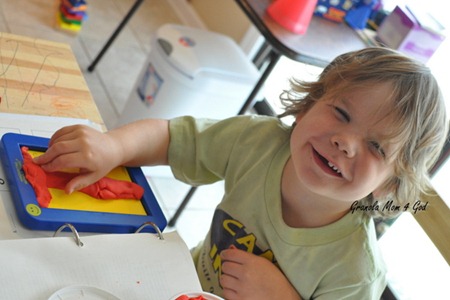 I adore his curls.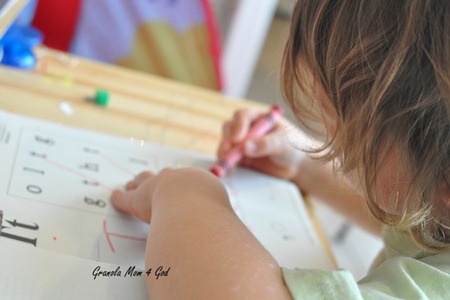 More importantly, I see that his desire to cut his hair is his new desire to think independently.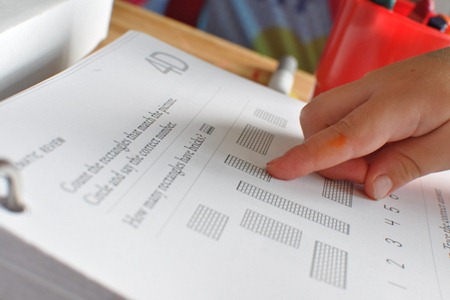 I knew the day would come.  We are teaching him to think.  So why wouldn't he dream his own dreams?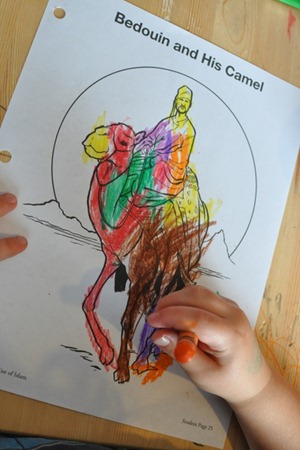 First Grade Excitement
This Christmas Sir Honey will be singing, "All I want for Christmas are my two front teeth . . ."  In the past two weeks he has lost two teeth.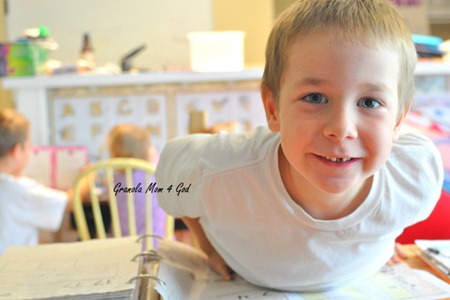 Sir Honey is my secret reader.  I often see his lips moving and when I follow his eyes, I see that he is sounding out a word.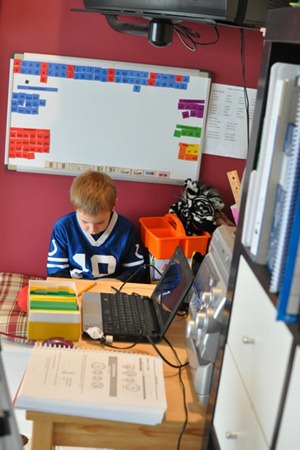 We are going through All About Reading, Level 2.  Wow.  It is a BLESSING to use this curriculum.  Learning to read and becoming fluent is a pure joy.
Once we coerced the squirrel to live somewhere other than our chimney, we moved back into the schoolroom and I hung our whiteboard.  While a simple task, this simple task has translated to us habitually use our All About Reading program. 
Homeschool Mom Tip:  Simplify and make things easy.  When the task is easy and streamlined, you will accomplish many great things throughout your day.  Perhaps I should share more on this and share the simple changes I have made that have equated to productive school days.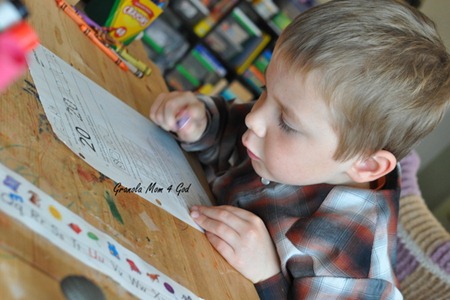 Another simplification is the lesson planner or check-list that the kids manage, not me.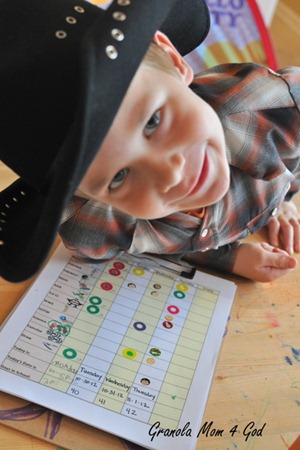 By making Sir Honey aware of what needs to be done still, he has taken some ownership in proactively starting a new subject when he completes a task.  Plus, he likes stickers.
On his checklist is exercise.
I think this is his favorite task of the day.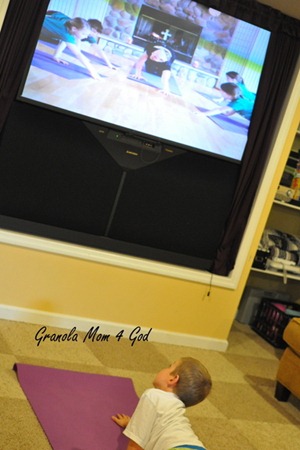 We have been using Holy Yoga.  I love it because I do not have to be present to filter what is being said on the video.  Holy Yoga is 100% Scripture that happens to be paired with exercise. 
An Independent 3rd Grader
He likes to place checkmarks in the boxes.  I get that.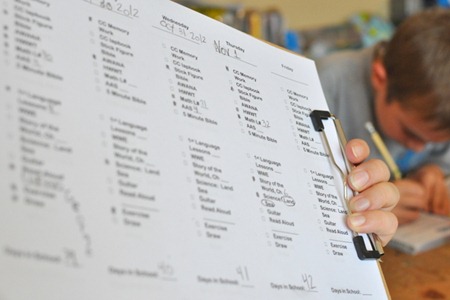 I also derive an insane pleasure from sliding a graphite pencil over the smooth paper.  And let me tell you about our paper.  I got it from Costco.  It is thick.  It makes me feel rich because of the quality.  Yet, it's from Costco!! (I'm not being paid for this mention – it really has been a simple pleasure for me this week.)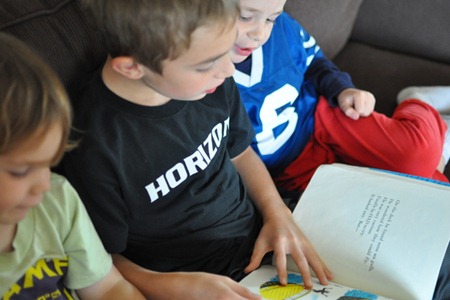 Mr. Smackdown reads to everyone.  (He gets to make a checkmark – I think that is the motivation, quite honestly.)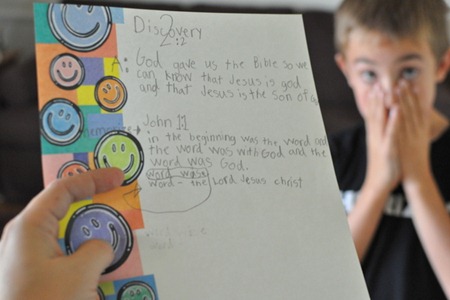 I included Awana as part of his school work.  He memorizes by handwriting each verse.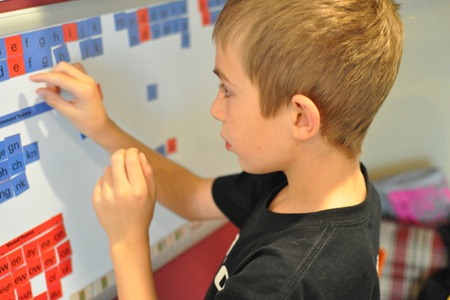 Mr. Smackdown is working his way through All About Spelling Level 3.  I love these "spelling" moments with him.  We are truly working one on one together . . . and I relish those moments.  He lets me sit close to him.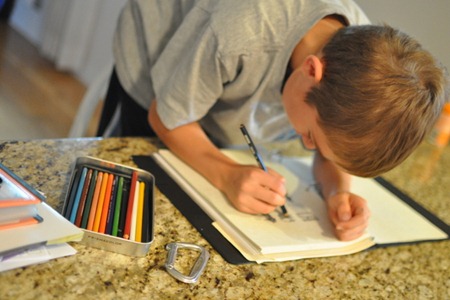 With the Engineer being in school and me teaching more and more Essential Oil classes, I have been blessed by how the kids are stepping up, supporting their parent's new endeavors, and learning how to minister to us during this busy season.
So last night, Mr. Smackdown brought his "bonus" work into the kitchen and colored timeline figures beside me while I made some healthy cookies, chai, and dinner.  I was blessed. 
Truly blessed.
OK.  You can unfreeze your life now and begin living now that you have vicariously lived in our home for a few minutes.
By the way, have you sent me a picture yet?
Linking up with: