How To Make Your Clothes Smell Good
Aug 19, 2013
This post may contain affiliate links. Additionally, remember that I am not a doctor and any health statements must be verified by your doctor. Read my full disclosure policy
here
.
Since going crunchy, I have missed smelling the air outside of my dryer vent. I make my own laundry detergent. My clothes don't have a fragrance.
Forget the positive fact that my clothes smell neutral (aka natural and chemical free); I miss walking past my sweet smelling dryer vent displaying its grey fuzz that billows in the artificially induced breeze yet disappointing lacks the smell of "clean clothes."
I know. Weird.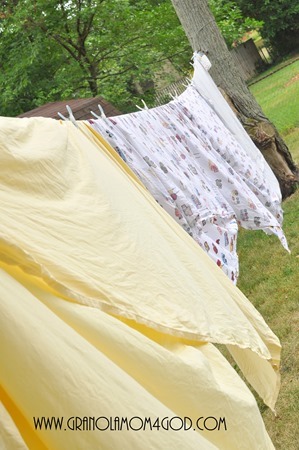 I tried putting a drop of essential oil on a piece of scrap fabric from the good 'ol days of making baby slings, but it didn't permeate the laundry. And only a shark could detect the trace of essential oil that lacks the ability to effect every fiber in cotton, unlike its ability to wrap itself around every cell in the body 40 times.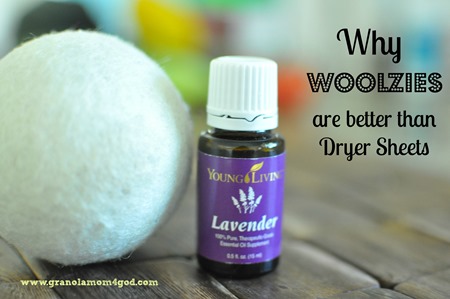 Why I Chose Woolzies
That was, until I met the Woolzie Dryer Ball. The Engineer thought I had taken up juggling. However, in an effort to further shrink our carbon footprint, I took up the practice of zapping the need to extend our laundry drying.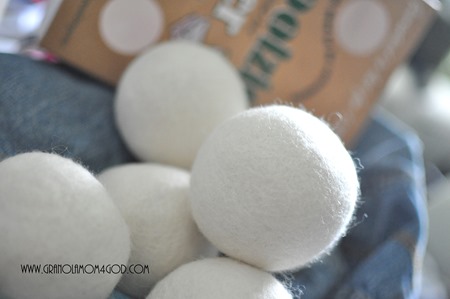 While I have a clothes line to dry wet items, I typically have only used it for sheets and cloth diapers. But we are done with diapers (insert lots of jumping and shouting).
Quite truthfully, I take the easy way out these days and hardly ever leave the confines of my laundry room when drying the washed clothing.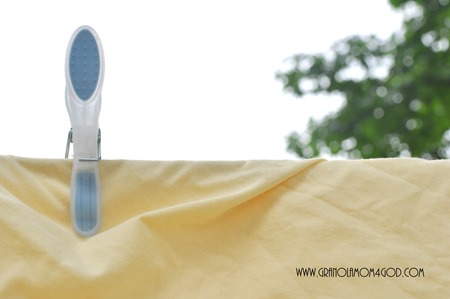 I chose Woolzies because:
they are 100% pure New Zealand wool
they are free from any other impurities or chemicals
they claim to lesson drying time by 25%.
While I have no idea if my drying time is 25% less, I do know that I have not had to run the dryer a second time to thoroughly dry our items (our dryer came with the house and appears up in years).
Woolzies act like a dryer sheet by making clothes smell good (because I often put a drop of Young Living Essential Oil on one ball each load) and they eliminate static electricity.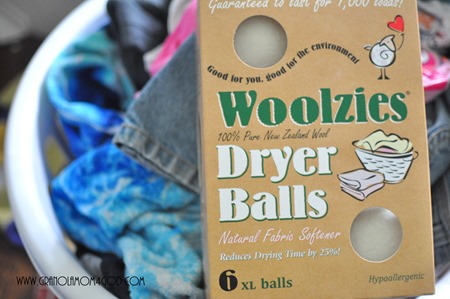 Woolzies Help The Environment
It is obvious that if you use dryer sheets that environmentally Woolzies are the way to go. No waste. Ever. Except if you throw away the box they came in – but you could compost the cardboard or feed it to the worms.
Woolzies Help You Save A Tiny Bit of Money
If I used dryer sheets you would find Seventh Generation in my laundry room. (Except I don't).
I do approximately 12 loads of laundry per week which works out to 624 loads per year. . So the package of Seventh Generation fabric sheets from Amazon would last me approximately 7 weeks.
This works out to $31.20 per year in dryer sheets, assuming that my chosen dryer sheets remain at .05 cents.
Woolzies cost $33.95 with free Amazon Prime shipping. Plus Woolzies last 1000 loads, which means I would save an additional $18.80 with the remaining 376 loads left on my Woolzies.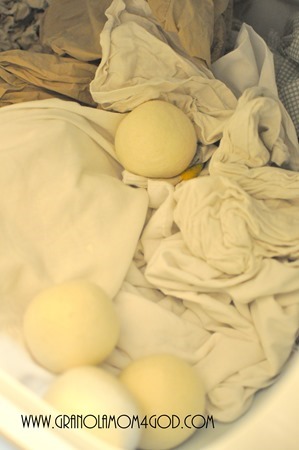 While $18.80 savings isn't huge, I like that Woolzies allow me to:
justify the cost of Woolzies
lower our carbon footprint by having the dryer run a shorter cycle
choose what I want my clothes to smell like and vary the essential oil
eliminate waste for the trash man
Do you use fabric sheets? Have you ever tried vinegar to soften your clothes? Do you like your clothes to smell good?
I received one or more of the products mentioned above for free using Tomoson.com. Regardless, I only recommend products or services I use personally and believe will be good for my readers.