How To Upload Curriculum to Your Kindle
Jul 19, 2012
This post may contain affiliate links. Additionally, remember that I am not a doctor and any health statements must be verified by your doctor. Read my full disclosure policy
here
.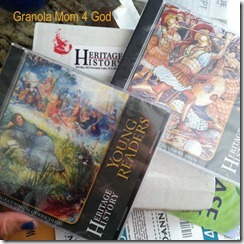 I recently received some very cool curriculum.  Hours upon hours of deliciously rich history stories from Heritage History.
I love it.  More importantly, my sons are going to go nuts. The books I'm uploading to my Kindle Fire are for Young Readers.  And our first book is about Robin Hood.
I just won the sword fight.  In boy language that means I earned brownie points.
How Do You Get Books to Your Kindle?
If you look closely at the picture on the right, you will notice that the Heritage History curriculum for Young Readers and Ancient Greece is packaged in a nice CD.
Is that a problem?  No.
How Do I Get the CD Rom onto my Kindle?
It would be easy if I could just set the CD's on top of my Kindle and June* would absorb all the contents of said CD's.  Not gonna happen, though.
Because I actually need to send some books to my Kindle for the boys to read during an upcoming long car ride, I am going to walk you through the process of how I uploaded our Heritage History stories to the Kindle.
You need to understand some grammar to proceed, though.
What is a Mobi File?
What is a mobi file?  Mobi comes from the word "mobile."  So think of mobi as a mobile file, meaning you are going to read it on your mobile device, i.e. Kindle.  It moves with you.
What is a PDF?
PDF stands for portable document format.  This is a file that typically can not be altered but can be read on any computer or electronic device that has a program such as Adobe.
How to Send a PDF or Mobi Document to the Kindle: Step-By-Step Instructions
Insert Heritage History CD into the CD-ROM of your computer.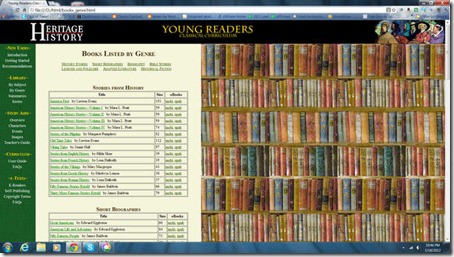 Choose desired document to download onto computer . . . like Robin Hood.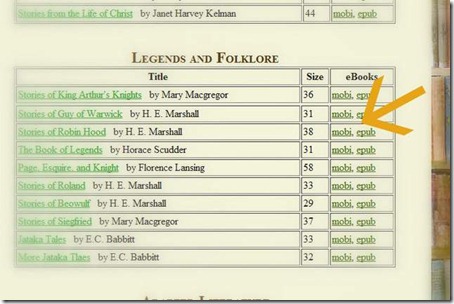 BECAUSE I want Robin Hood on my Kindle, I chose to download the mobi file, NOT the epub, to my computer.  I had to do the same thing when I purchased I Quit Sugar.  I downloaded the mobi file for I Quit Sugar.
The Kindle reads only mobi and pdf documents.
When you purchased your Kindle, you should have received an email address for it.
Panic Attack:  I Don't Know My Kindle Address!
If you do not know the email address** of your Kindle, take a click over to Amazon.
Under Shop By Department, choose Kindle.
Find Manage my Kindle.
Then, go to Personal Document Settings.
A screen will show  you what Kindle devices you have.
As you can see I have a Kindle Fire, but I have also loaded Kindle onto my phone and the school iPad.
Commercial:
The beauty of using the Kindle app on multiple devices is that all of your books are always available and they are linked.  For example, I was reading Wrecked on my phone.  An hour later, I sat down to rest and used my Kindle Fire instead.  The Kindle "asked" me if I wanted to update my bookmark from an alternate location under a different ip address.
Smart.
While you are in Personal Document Settings . . .
You have to "allow" an email address to send your Kindle pdf and mobi files.  You can do this from the Personal Document Settings screen.
I have several different email addresses that are allowed to make contact with June.  Since I review for Netgalley and Booksneeze, I allow those two companies to send the mobi files DIRECTLY to my Kindle, thus eliminating me as the middle man.
It's Time to Download in order to Upload
Create a Kindle download folder for any book (pdf or mobi file) you save to your computer for the express purpose of uploading it to your Kindle.
I am lazy unorganized.  I clicked on the mobi file from the Heritage History CD and it automatically saved itself to my download folder on the hard drive (or C Drive) of my computer.
It's Time to Upload
Open up your email (if it wasn't already opened, along with 10 other tabs).
Type in your Kindle address (i.e. JodiRockstheKindle@Kindle.com) in the "TO" portion of your email.
Attach the file you wish to read on your Kindle from your newly created Kindle download folder.  In my case, Robin Hood.
Send.
The Book Appears on Your Kindle
Turn your Kindle Fire on.  Your new book may not show up immediately.  Give it a bit of time – no more than 5 minutes.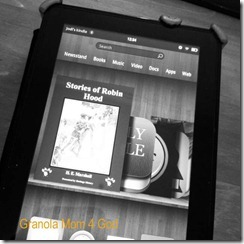 What books have you read on your Kindle Fire recently?
* In case you missed a previous post, June is the name for my Kindle.
**Note: If you go to the Docs on your Kindle Fire header, it lists your Kindle email address above the documents.
Would you like to know more about Heritage History and enter to win a Kindle Fire?
I encourage you to go peruse the Heritage History website, particularly the Spanish Empire Library, which you will receive for FREE ($19.99 value) when you purchase any one of Heritage History's five curriculums (Young Readers, Ancient Greece, Ancient Rome, British Middle Ages, and British Empire; each $24.99).  This offer is valid through Oct. 31.
One catch:  to receive your free Spanish Empire Library you need the Granola Mom 4 God discount code – JODIskill.
Be sure to enter to win a Kindle Fire while visiting Heritage History! 
This post does contain affiliate links.