Tot School 10/18/09
Oct 18, 2009
This post may contain affiliate links. Additionally, remember that I am not a doctor and any health statements must be verified by your doctor. Read my full disclosure policy
here
.
I may have a new student in my classroom.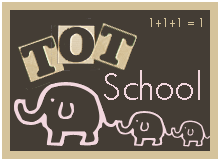 Mr. Smiley.

Due to our diligence and lack of PBS watching, school time often includes an awake Mr. Smiley now. When school is in session, he immediately crawls to his little black box filled with music toys. Tot School is the only time I will let him play with them. As a result, my mom has been working on some Tot School toys just for Mr. Smiley.
The week started with a Do-A-Dot letter D.

Mr. Me-Too separated shapes into the four colors.

The boys helped with housework and folded our napkins and washcloths.

We had story time with Nana. I love the look Mr. Me-Too gave me. By not watching TV, even thought it was only a little bit, I am finding that we are reading SOOOOOOOOOOO many more books. It is great. And it gave me an idea . . . . but that will be for another blog post.

A Tot Tray included a 100 piece Melissa and Doug puzzle that they boys worked on together.

Mr. Me-Too practiced writing . . . it was supposed to be the letter D, but he just made straight lines!

I was working on math with Mr. Smackdown, and Mr. Me-Too joined in working and making shapes with our geoboards. Mental note . . . sometimes rubber bands act like guns!

This was probably our favorite Tot Tray of the week. When I taught kindergarten, our gym teacher used to do this activity with the children. Directions: Stand on a chair or raise your hand very high with feather in hand. Drop the feather. As it drops to the ground, the children try and catch it with their hand or in a cup.

In honor of Fall, and thanks to Oriental Trading, I purchased some fall foam activity pieces. Mr. Me-Too
placed the leaves and pumpkins in an old Nordic Naturals vitamin container.

Then, he dumped them in our balance.

And finally he had to clean up the fall pieces. There was some resistance, but once I gave him a "shovel" . . . clean up became fun.

We continued working on our Feelings Book. This week he colored a face red.

And looked for red toys.


I love this picture.

My second favorite Tot Tray involved something that I have ALWAYS wanted to buy, but never had a reason: ticket stubs.

They had to tear the stubs apart and then stuff them into a small hole.

Which led to finding more things to stick through the hole . . . paperclips . . .

and pennies . . .

It was a fun week!
Welcome to Tot School, Mr. Smiley!