If You Give A Mom A Book: In My New Yellow Shirt
Jun 11, 2010
This post may contain affiliate links. Additionally, remember that I am not a doctor and any health statements must be verified by your doctor. Read my full disclosure policy
here
.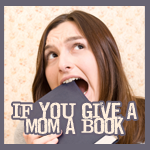 This book was for Honey.  He loves the color yellow. 
I happened upon it when we were searching for books to fill the bottom stroller compartment.  More books mean more points, you know.  More points mean delicious, sugary, processed, dye-filled lizards and geckos that the boys only get to eat during the Summer Reading Program at our local library.
It is the story of a little boy who gets a yellow shirt for his birthday.  However, said little boy's best friend (Sam) thinks that it is a stupid gift.  A "no fun" sorta gift.  
Not to the birthday boy.
This shirt allows him to become all sorts of things . . .
a lion . . .
a taxi . . .
a caterpillar . . .
a butterfly . . .
even a firefly . . .
and the moon at night, big and bright.
What shirt color would you want?  What would you become?
Me?  I'm content with a pink shirt.  It lets me be a mom.  And it allows me to dream about the little girl kicking my belly. 
But one day . . . maybe a mixture of brown, green and gray.  Then, I'd be a soaring mountain.  I would tip-toe so high up into the sky – stretching to smell the clean, crisp air.  I'd provide an adventure land for my family to camp and climb in, relax, and find refreshment. 
What did you read to yourself or to your child this week?  See my guidelines to link up!  Leave me a comment when you do!