If You Give a Mom a Book — Night Tree
Nov 30, 2009
This post may contain affiliate links. Additionally, remember that I am not a doctor and any health statements must be verified by your doctor. Read my full disclosure policy
here
.
Neat, neat, neat book.

Night Tree by Eve Bunting arrived in our mailbox from www.Paperbackswap.com (click on the link to learn more about my favorite and practical recycling website that provides the majority of our homeschooling curriculum for sustainable books).
I think that I put it on my PaperbackSwap wish list last year after scouring the CBD (Christian Book Distributor) catalog. Perfect timing!
I really enjoyed this story because it reminded me of my family. We could relate.

Basically, it is the story of a family who has a yearly traditions (I surmise) of visiting the same pine tree every year to decorate it. They create homemade ornaments comprised of popcorn, apples, tangerines, and cranberries. After Christmas Eve turns dark they venture to this secluded spot and decorate the tree for their forest friends. After pampering their tree, they sit, sip hot chocolate, and sing Christmas carols.

I love it because it is simple. It is a secret. It is their tradition. Their quiet benchmark to honor the season, the birthday of our Savior (though this is not mentioned directly in the book). And it provides a moment of solitude for the family in the midst of an often busy and loud family holiday.
If you see a random tree decorated . . . well, we might just have crept out one night to start our new tradition. I know two little boys who have latched on to this idea. Shh . . . don't tell!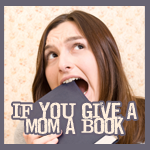 What did you read this week?
If you don't know what a Sustaining Book is check out my first blog post on this topic, If You Give a Mom a Book.
Some things that you could discuss in your blog post would be:
What is one book that stood out to you this week?
What was the title of the book, and who were the author(s) and illustrator(s)?
What conversations did it spark between you and your child?
Did the book come up randomly in conversation at some point causing your child to create an application on their own?
Set the scene—where did you sit?
Did you have anything yummy to eat or drink while reading?
Was music playing?
How did reading together help your day?
What was the story about?
Did you like the illustrations?
What was your favorite part about snuggling?
Why was your book a Sustaining Book?
Guidelines
Link up 1x a week. My goal is to post every Friday.
Pick one book—your favorite book from that week.
Use any one of the suggestions I listed above to include in your post.
Grab my button on the sidebar to compliment your blog post.
Enter the exact blog post address in Mr. MckLinky!
Leave me a comment that you linked up!
I can't wait to read about your Sustaining Book!