If You Give a Mom a Book: Nighty Night, Baby Jesus
Dec 18, 2009
This post may contain affiliate links. Additionally, remember that I am not a doctor and any health statements must be verified by your doctor. Read my full disclosure policy
here
.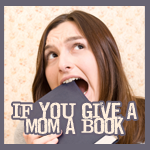 The scene: an early but quiet morning.
I was wrapping up my quiet time with Beth Moore's study, Esther,
when I heard solid footsteps plod down the stairs. Quick, with no pretense of sneeking up on me, I knew that it was Mr. Smackdown. He patiently sat beside me while I finished my study, knowing that my time with the Lord benefited him throughout the day. He snuggled between Mussie and I (on the couch) with several
Arthur
books.
The solitude of the morning was begging for magical moments in faraway imaginary places. Of the places that we traveled, Bethelem was my favorite destination.
The Book:
Nighty Night, Baby Jesus
by Molly Schaar Idle.
.
.
Sustainable . . . yes. Would it need words to be sustainable? No. I was caught up in the precious pictures, drawn in a style . . . that I know not the name, only that it delights my eyes.
The famous story of the focus of our Christmas celebration is still Jesus . . . but the book opens with the brilliant birth of Baby Jesus, whose light wakes up the animals.
I love this line . . .
Up for work, the Ox plowed toward

his breakfast in the manger.

But, in place of food, he found

a perfect Little Stranger.
Dreamy. Thoughts of holding my newborn flooded memories. I wonder, Mary did you know?
What did you read this week?
If you don't know what a Sustaining Book is check out my first blog post on this topic, If You Give a Mom a Book.
Some things that you could discuss in your blog post would be:
What is one book that stood out to you this week?
What was the title of the book, and who were the author(s) and illustrator(s)?
What conversations did it spark between you and your child?
Did the book come up randomly in conversation at some point causing your child to create an application on their own?
Set the scene—where did you sit?
Did you have anything yummy to eat or drink while reading?
Was music playing?
How did reading together help your day?
What was the story about?
Did you like the illustrations?
What was your favorite part about snuggling?
Why was your book a Sustaining Book?
Guidelines
Link up 1x a week. My goal is to post every Friday.
Pick one book—your favorite book from that week.
Use any one of the suggestions I listed above to include in your post.
Grab my button on the sidebar to compliment your blog post.
Enter the exact blog post address in Mr. MckLinky!
Leave me a comment that you linked up!
I can't wait to read about your Sustaining Book!