If You Give A Mom A Book: Ruby's School Walk
Aug 16, 2010
This post may contain affiliate links. Additionally, remember that I am not a doctor and any health statements must be verified by your doctor. Read my full disclosure policy
here
.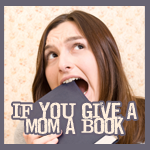 The walk to our school room isn't very far . . . really not even long enough for the imagination to create a fairy or a snowstorm.  A spider web lurks here and there and it isn't uncommon for a tumbleweed of Mussie's hair to blow across the tile. 
Ruby's School Walk ($16.99)
by Kathryn White and Miriam Latimer
Regardless, the Granola Boys had no problem joining Ruby on her walk to school with her mom.  When we take walks around the neighborhood it isn't uncommon for us to make up elaborate tales of people we pass by or the flight of a stray leaf. 
Our tales aren't quite like Ruby's, though.
In general, I am like a detective in the library searching for any Barefoot Book that I can find.  So I was a little bit surprised by some of the darker thematic elements in this particular book. 
Now, I'm not saying I wouldn't still seek out Ruby's Walk, but  initially I did change a few words and glossed over a page or two . . . only because my sons' imaginations are like mine.  If they capture a slightly scary image, it will only continue to grow like a weed unless it is tamed.
But what I do love about this book (and don't love) are the fantastically bright and delightfully colorful pictures.  The illustrations do spark the imagination, mine included.  The text does deal with real issues – overcoming the fear of the first day of school. 
So instead of totally shying away from some of the words, for the second and third readings  I used the words I typically avoid (witches, ghosts, things jumping out at them, etc.) as a springboard to discuss deeper issues . . . dealing with fear and overcoming it. 
In reading this book with the Granola Boys, we discussed the importance of knowing what is reality and what is fictitious.  When they are confused or scared, they need to talk to us (mom and dad) about their fears so that we can pray for them and point them to Scripture. 
Barefoot Books is a pretty cool company.  My sister is actually the person who first introduced me to them . . . and since they look like eye-candy to this book snob, I have hunted them down in the library ever since!  (Secretly, I hope they send me a whole collection of their books to review – there are over 400 you know!  They looks, smell, and feel like sustainable books.  Gets me all excited!)
(Oh, and by the way . . . I was sent this book to review in conjunction with my connection to MamaBzz.  I do not have to return this colorful book nor do I have to return it. It will stay in our home library, thankfully.)
———————————————-
What have  you read to yourself or to your child since I last did this meme?  See my guidelines to link up!  Leave me a comment when you do!