New Name and a Kitchenaid Stand Mixer Giveaway
Apr 9, 2014
This post may contain affiliate links. Additionally, remember that I am not a doctor and any health statements must be verified by your doctor. Read my full disclosure policy
here
.
In the Bible, significant events are often marked by creating altars or casting off a person's given name in order to take on a name more appropriate for a change in their life.
I unearthed at least 37 times where historical figures in the Bible were given a new name or adopted an alternative translation of their name.
Simon became Peter.
Naomi woefully became Mara.
Sarai rightfully walked into the name Sarah.
Most remarkable was the change in Saul to Paul.
Such a time has come for Granola Mom 4 God.
The Blog Has A New Name
Granola Mom 4 God has officially adopted the name JodiMcKenna.com.
There are many reasons behind this change.  Reasons that really just express God's new work in me, a sign of the times and online writing, and a shift from being review focused to a return to traditional blog writing, where my writing isn't dominated or controlled by the company I may or may not be dialoging with.
To me, the name change represents freedom.  Freedom to write.  Freedom to express or remain silent.
Where We Have Been
I've certainly come a long way.  When I first started blogging, I didn't even allow you to know my name from birth, Jodi.  And now you even know my last name.
In Hindi, my name means water.  Apparently in Hebrew it means, "God shall add another son."  (Maybe this is why I have three sons?).  But baby name books mention a term I would not agree with:  sweet.  It was most popular in the year 1970 . . . six years prior to my May birth.  By being spelled with an "i",  it more feminine than the popular "y" version that the majority of strangers prefer to write my name.   It is linked to Judith and Joseph in origin.
Granola Mom 4 God began as a way to share my recipes with friends.  Then, it became an electronic scrapbook.  Next I found that it helped me document our homeschooling which opened up all sorts of online friendships, opportunities to generate income, and a new job as a social media manager.
But now . . .
Where JodiMcKenna.com is Going
But now, I wish to return to the blog's inception.  I wish to engage.  I wish to have a space that is my outlet and a place where I interact with you better.  I want my words to be trustworthy and not leave you to ask questions as to why I am sharing something that doesn't relate to my normal content.  I am tired of deadlines.  Tired of writing for the Company.
What you might be seeing . . . when time allows are the following items:
how to dehydrate Celtic Sea Salt in order to pay $20 less
recipes that do not have any dairy or grain
a look into arthritis
how to tackle psoriasis
a focus on homeschooling
a peak at our square foot gardening this year
some . . . book reviews – because I just can't resist a vacation read
and I am hoping to have you walk through my personal weight loss journey
Now To Officially Celebrate
I've been promising a giveaway for some time on Facebook.  I gave those the "fans" a choice between a Vitamix or a Kitchenaid Mixer.  The mixer one.  And I must admit, I need one really bad, too.  However, the winner will be one of  you.
My Kitchenaid Stand Mixer is in a very sorry state.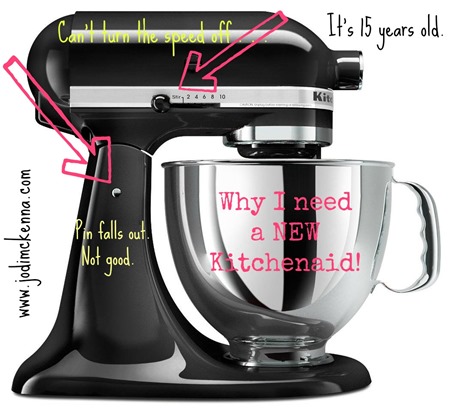 The pin that connects the top of the machine – like the heavy part of the mixer that houses the motor . . . falls out.  And sometimes this heavy component falls off . . . while the running.
And the on/off switch?  It's permanently on.  My kids think it is just normal.  So they don't plug the mysterious black mixer on until they are ready to begin mixing ingredients.
It's been a good workhorse.  But he is 15 years old.  And I never dreamed I would be using it to serve a family of 6.
To Celebrate Our New Journey
Enter to win a brand new Kitchenaid Stand Mixer or (equivalent Amazon gift card)!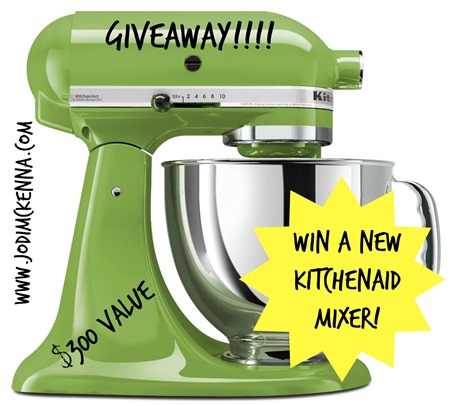 The catch?  You have to enter . . . and it is for US residents only – I think shipping would be prohibitive otherwise – and I am paying for this giveaway with my own pocketbook.  However, IF you live elsewhere around the world, or you already have a Kitchenaid Stand Mixer that works fine . . . I will send you an Amazon Gift Card.
There is one thing you HAVE to do . . . you need to click on MY Kitchenaide Stand Mixer Amazon link . . . this doesn't cost you anything, is painless, but may help me afford this mixer that I will send to you (if you win.)  So, go pick out a color here and then enter the Rafflecopter giveaway (note you will need to go to the blog if you are reading this in an email.)
a Rafflecopter giveaway