Les Miserables on the Big Screen
Dec 20, 2012
This post may contain affiliate links. Additionally, remember that I am not a doctor and any health statements must be verified by your doctor. Read my full disclosure policy
here
.
We left the kids well fed and far from miserable — with a Wii remote in their hands and our sweet babysitters for company.  The Engineer and I were going out for a rare weeknight date to the movies.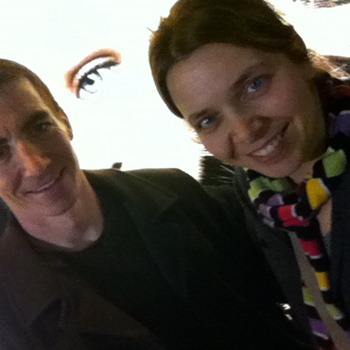 This was no ordinary night at the movies, however.
Les Miserables: A Sneak Peak
We snagged the last two seats of a special sneak peak of Les Misérables: The Musical Phenomenon.   While we had both seen the theater version of this long ago, only one of us was a big fan of it (that would be the one on the left in the above photo).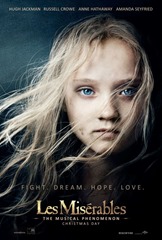 However, once the lights came down and we were all threatened with unmentionable torture if we were caught trying to pirate the movie (or even with a cell phone turned on), something changed.
For the first time, my (Jodi's) disdain for this beloved musical seen by more than 60 million people around the world faded almost as quickly as the lights.  I  wholeheartedly became emotionally tied to this spell binding movie beginning with the larger than life opening scene.
The Brief Review
I would sum up my review with one sentence:  You have to go see it Les Misérables on the big screen.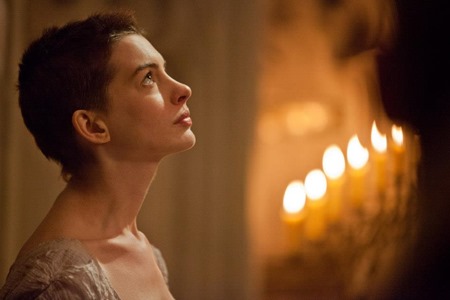 The Extended Review
And while I could stop with just that one line – I'll instead pass the keyboard off to my beloved analytical Engineer.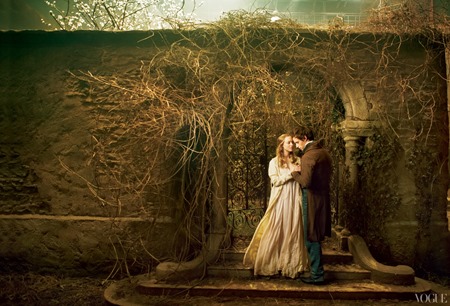 The reason for the handoff?
I was more than a little proud of his most recent review of The Hobbit and it was decided that since we both got to enjoy the movie, we should both play a part in writing the review.
Plus, I like it when he enters my world.
The Engineer Speaks
The plot of the movie is far too complex to sum up even in this extended review.  A ridiculously brief summary would read as follows:
Les Misérables takes place in 19th century France and it weaves an extraordinary tapestry using heavy contemplative themes of grace, legalism, human suffering, sacrifice, and love.  The most distinguishing characteristic of this movie may be that the entire movie is sung.
If I Could Sing My Review for You
There is rarely a spoken word found in the entire movie.  Going into the movie,  I wondered how that would work.
How do you make a movie convincing and realistic when everyone is singing and dancing the whole time?  I don't know about you, but I spend very little of my typical days singing or dancing.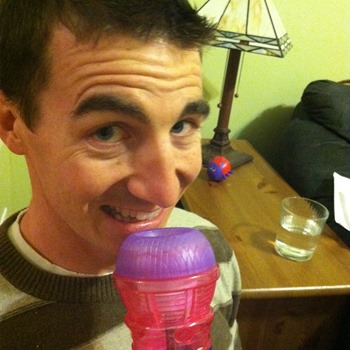 Does that make me weird?
What I thought would be the biggest obstacle to an authentic movie was actually its biggest asset.  Why? Because it is the powerfully sung solos that let us peer into the very souls of the characters. We are allowed to see and feel what the character was really experiencing.
Without those solos, that message would have to be delivered through awkward monologues where we would be left asking, "Who is he talking to?"
It would be awkward.
But there was nothing awkward about Fontine delivering "I Dreamed a Dream" or Jean Valjean wrestling with his emotions in "Bring Him Home."  There is power in these songs – that still resonates within me.
Oh, and if you are wondering whether Wolverine (aka Hugh Jackman) who plays Jean Valjean can actually sing, you have to see it to believe it.
The Contrast of Grace and Law
The only thing more impressive than raw emotion of the music is the incredible contrast that Victor Hugo's story line paints between grace and law.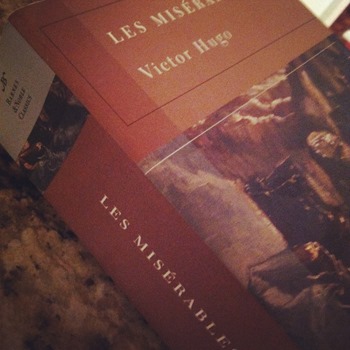 The main characters epitomize this distinction throughout the movie.  You witness first hand how the grace of God in someone's life leads them to a life of compassion, self sacrifice, and true joy.
You also see how the tentacles of sin and death will torment someone who tries to live their life according to the law.  This movie serves as a powerful reminder of our need for God's grace in our lives and what an ugly place this world becomes without that grace working in the lives of His people.
In Closing
While we wish we had an application to share with you, we do not.  The depth of this tale runs deep . . . and would require many more blog posts to adequately cover the themes that harmonize throughout the musical production.
Perhaps when the kids reach high school, we will revisit Victor Hugo's Les Misérables.
Until then, go see the movie for yourself.
Forget your preconceived ideas about paying the big bucks to watch a musical on the silver screen.  It is worth skipping Starbucks a few times to pay the theater price and munch on some salty popcorn.
Thank you Grace Hill Media, for sending us on yet another thought provoking date.  We appreciate how Grace Hill Media promotes productions that focus on faith, family, and community.  Grace Hill Media also provided the images used in this blog post.