Love Finds You in Glacier Bay Alaska
Jan 1, 2013
This post may contain affiliate links. Additionally, remember that I am not a doctor and any health statements must be verified by your doctor. Read my full disclosure policy
here
.
I have an affinity for "vacation reading." This genre of reading is light, mindless, and allows me to escape. My life is busy. Loud. And sometimes chaotic.
I don't feel guilty about escaping . . . retreating. It allows my body to rest and my mind to unwind.
What I Read on my Way To Florida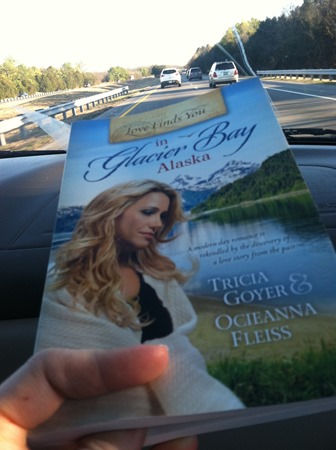 While the Engineer drove 16 of the 18 hours, I read a book between passing snacks to the back of the car, adjusting headphones, and entertaining certain children.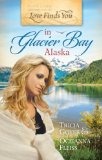 Not Your Average Vacation Reading
While I would classify Love Finds You in Glacier Bay Alaska a vacation read, it is meatier than your traditional vacation read. Perhaps being a part of author's Tricia Goyer and Ocieanna Fleiss book launch team, gave me a vested interest in the book.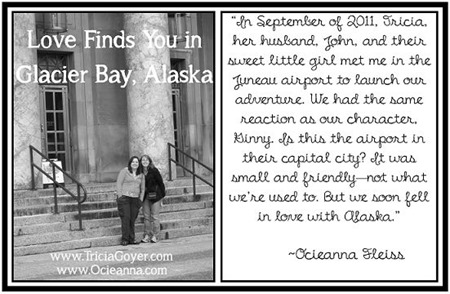 I heard about their trip to Alaska.
I was able to be a fly on the wall and learn their hearts and intentions behind this book. While providing an innocent romance to draw the normal woman into the novel, the reality is that the women authors encourage the reader to initiate dialogue not only with other friends, but with God. Fellowship has the potential to be fostered over a coffee date between friends who have read this novel — real conversations that provide a framework for women to connect and work through life issues together.
What is the story line of Love Finds You in Glacier Bay Alaska?
A singer by the name of Ginny Marshall is about to become ridiculously famous, despite her childhood upbringing. And this causes her some alarm, as it propels her agent to put their relationship in fast forward.

This sudden shift directs Ginny's attention to the one person who made her feel safe. And so, she hops on a plane to Alaska. There she plans on locating her former fiancé, Brett Miller. Perhaps he will have the answers she is looking for.

But before she has the chance to speak with him, Ginny becomes immersed in a stack of letters that Brett's grandma has Ginny read while she stews for him to return from the back country.

With each letter, Ginny becomes more sure of her future. She grapples with God's role in her life. And Brett confirms what must happen – something that Ginny has truly known all along.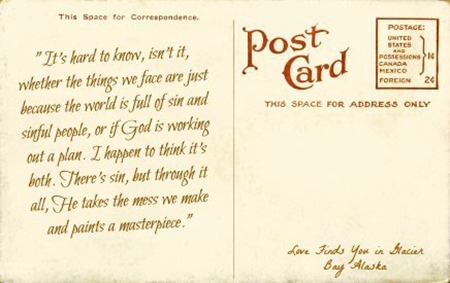 I Think Love Finds You in Glacier Bay Alaska is a Keeper
While I normally would tell you to go borrow your vacation read from the library, I would honestly purchase this copy to pass around to your girlfriends. You can snag your copy at Amazon.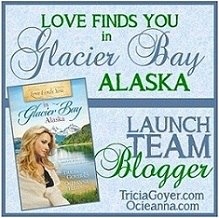 I received Love Finds You in Glacier Bay Alaska for free. I was not paid for this post and I was given full reign to express my opinion. I thoroughly enjoyed being a party of Tricia and Ocieanna's Blogger Launch Team – their hearts are BEAUTIFUL!