Math-U-See Number Stamp Printable
May 1, 2013
This post may contain affiliate links. Additionally, remember that I am not a doctor and any health statements must be verified by your doctor. Read my full disclosure policy
here
.
Gabe jumped into school a wee bit earlier than his siblings.  And I find that this means he can't always do all the things that he wants to do.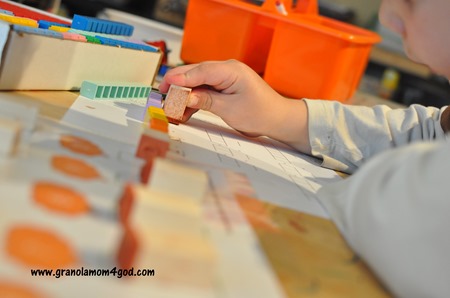 But his mind wants to.
As I surveyed next year's math . . . I questioned whether we should continue our current course.  It would require a lot of handwriting.  While I want Gabe to know how to write his numbers, I don't want to hold him back from learning new math concepts just because he struggles with the fine motor skills to write the number answers.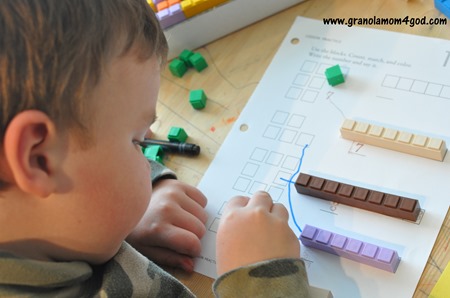 As I shared this with the Math-U-See representative, she gave me a genius idea – allow him to stamp the correct answer.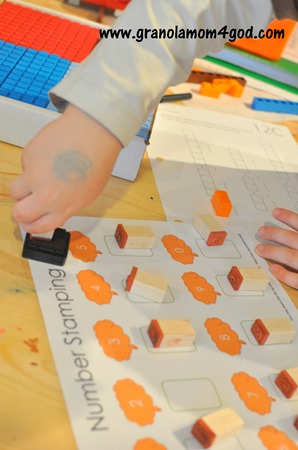 Genius.
Benefits of Using Number Stamps
And you know what I am finding?
Number stamping has increased his learning and speed at which he completes his work.
It has sparked a desire in him to truly master writing his numbers.
It has allowed him to work independently, just like his big brothers.
He has shown increased confidence.
Teaches him that everything has a place.
Keeping Number Stamps Organized
Perhaps I am OCD, but I created an organized surface for Gabe to place his stamps after he used a number stamp.  This eliminates ink from getting all over his desk, and if the document is laminated, the ink wipes off.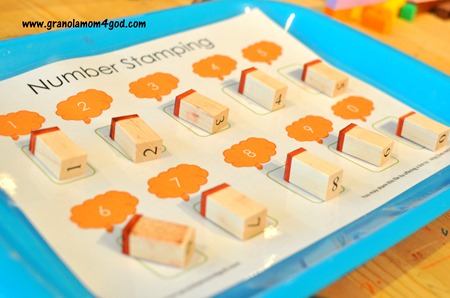 I keep Gabe's Number Stamps on a tray – basically because this way the stamps don't have to be put away in a traditional . . . bag or box.  And it makes it easy for us to move his math, say to the kitchen table, if need be.
Supplies Needed
While I created this document to be used with Math-U-See Primer and Alpha curriculum, it certainly has other applications.
How will you use this Number Stamp Printable?