My Hand Hurts
Aug 16, 2012
This post may contain affiliate links. Additionally, remember that I am not a doctor and any health statements must be verified by your doctor. Read my full disclosure policy
here
.
I am contemplating the Bible.  I think upon it every time my hand hurts.
I ponder the person or persons who translated it into English.
A long time ago.
As I copy the text with my own hand, the hand that thinks Matthew Chapter 5 is so insanely long, I find gratitude flowing forth from my pen.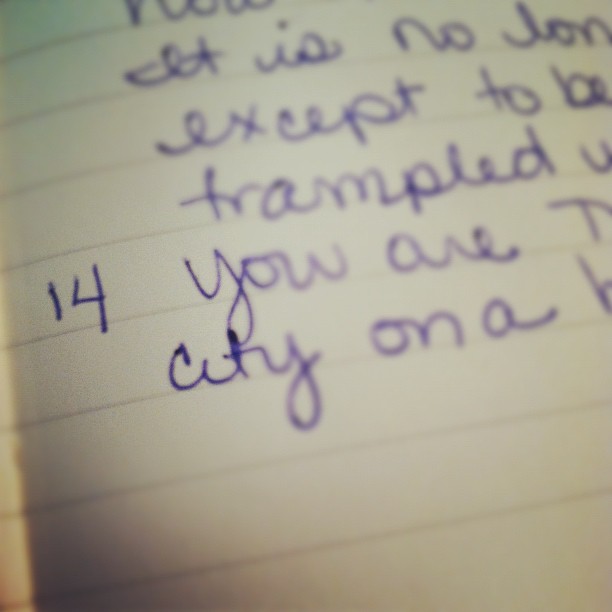 I get to use fun colors.  Switch them out.
I am writing the Word with my native language.
No translation involved.
I can stop if I want.  I don't have to finish the project.
This lofty idea of writing the entire Bible by hand.
Entirely my own. (Meaning no one put a gun to my head and told me to write.)
Other than the potential to make me more like Christ, if I stop writing the Word, it won't affect anyone.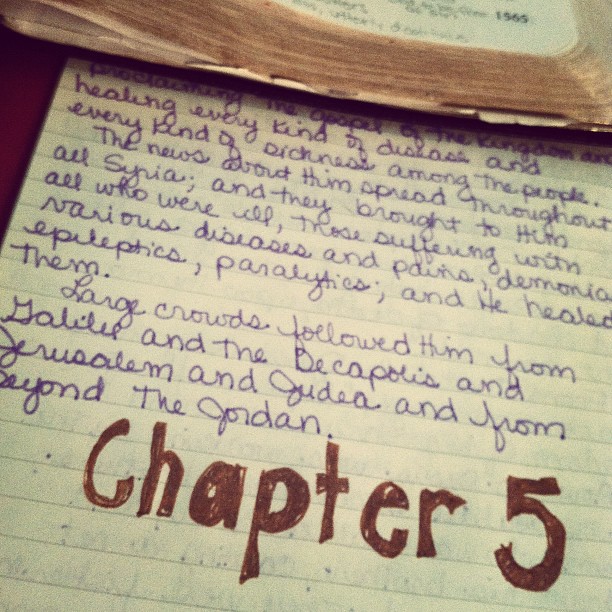 I won't quit.  Not only is it a legacy for my husband and children, but it reminds me of the work yet to be done – yet to be finished.  (Matthew 24: 14)
There are real laborers doing the hard work.  Moving families.  Establishing themselves in a foreign culture.  Learning a new language.  Training locals.
Bringing hope to a people lacking the Word of God.  Lacking truth.  Who don't know about the loving God and His Son, Jesus.
I get to open that hope whenever and where ever I want.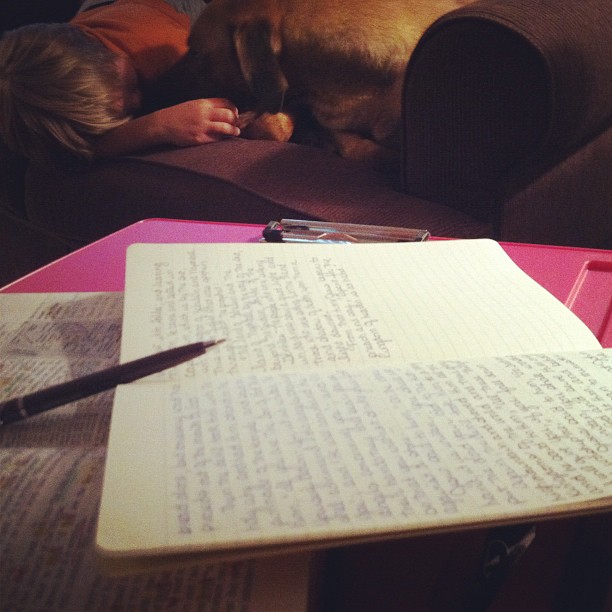 Luckkkk-eeeeee. (OK . . . blessed.  Luckkk-eeeee just sounded better.)
I shall pick up my pen.
I think I will use gold today.
What color will you use?
To learn more about #writetheword  and to join in read how it started.  Follow me on Instagram or Twitter and watch for the #writetheword hashtag.
Join me in my pursuit of seeing the Vidunda people from Tanzania have the Bible translated into their own language.  Visit One Verse.