My Kids Favorite Mail Day
Jul 30, 2014
This post may contain affiliate links. Additionally, remember that I am not a doctor and any health statements must be verified by your doctor. Read my full disclosure policy
here
.
My kids get a bit of monthly mail. And the reason they get mail is selfish. I really, really, really, really like REAL mail. My relationship with mail, is much like my relationship with ice. I took advantage of a Groupon or two and we subscribed to Zoobooks/Zoolets and World Magazine for kids. But the highlight, the piece of mail my kids continually ask me about – "When it is going to arrive? It's been five days since our last video. Is it time yet mom?"
Friends and Heroes.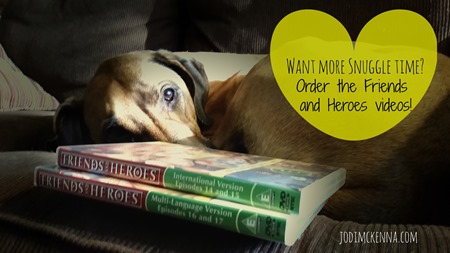 If you don't know what this is . . . I strongly encourage you to find out. To be honest, for the longest time I saw ads for the Friends and Heroes videos and I completed ignored those cute characters.
Until my children saw me looking at the Friends and Heroes website. And I had a weak mom moment.
I mean . . . they are wholesome videos. Like Bible story videos . . . with quizzes at the end of each one. Hello learning and retention!
What is Friends and Heroes
Friends and Heroes is an animated video that tells Bible stories through the eyes of main characters Macky and his friends.
As my children are beginning to outgrow VeggieTales (actually they aren't. I just say that because my son is almost 10. And he really likes Bob and Larry. But don't tell him I told you.), Friends and Heroes have kept the animated Bible stories at the forefront of favorite screen time. I do not feel that Macky and his friends are limited to a certain age. All four of my children sit down to watch Friends and Heroes.
And I may or may not join them with some popcorn.
We Are Friends and Heroes Subscribers
I decided to sign up for the Friends and Heroes monthly video subscription. Investing in my children's spiritual development is priceless. And with free shipping by being a subscriber it was a no-brainer. These were the very first DVD's I EVER purchased for our children. All other movies in our home have been gifts.
Let that speak to you about the quality of this series and Biblical accuracy.
Each month I spend $14 on a Friends and Heroes video. We don't buy Wii games or scrounge through the $5 bin at Wal-Mart. (I will admit that we are Netflix subscribers and I use Amazon Prime for free videos.)
Why Am I Telling You
I'm telling you about Friends and Heroes because I like them. And my kids love them.
I'm telling you about Friends and Heroes because we use these videos on a regular basis and give these videos away as gifts.
I'm telling you about Friends and Heroes because they are having a big promotion that only happens twice a year.
What is the Current Promotion?
When Friends and Heroes had this promotion about a year ago, I believe that is when we subscribed.
Save 20% on Friends and Heroes Homeschool Curriculum
Save 10% on Friends and Heroes Home and Family Collections
Save 10% on Friends and Heroes resources with curriculum for churches and schools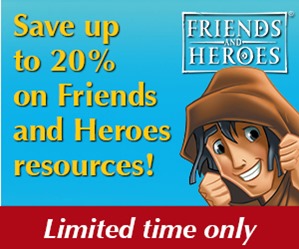 Why Is Friends and Heroes Great?
I think this video subscription is great BECAUSE . . .
It is about the Bible.
The kids like it.
My children are challenged by the quiz at the end of each story.
I like watching it.
You can use it as your Bible curriculum.
If you need to have "home church," Heroes and Friends is a great tool to facilitate discussion and they provide useful activities.
Heroes and Friends works well to have a group of children watch during adult Bible study.
It is entertaining for car rides.
It works perfect as your homeschool Bible curriculum. (In fact they have entire unit studies. This is ideal for ages 7-11.)
It helps children identify with the RIGHT HERO. Those found in the Bible.
Act Now
The Friends and Heroes promotion ends August 15th. Don't' delay, start today!
To receive up to 20% off of your purchase, visit the Friends and Heroes website.