Nature Explorers–From Flower to Seed
Sep 20, 2009
This post may contain affiliate links. Additionally, remember that I am not a doctor and any health statements must be verified by your doctor. Read my full disclosure policy
here
.
Though I LOVE being outside and observing God's creation, I am HORRIBLE about incorporating recess into our day. To be honest, it is hard work getting everyone out of pajamas (Yes, we stay in our PJ's most of the day) and out the door in a timely fashion. In fact, the boys will say to me, "Are we going somewhere?" or "Who is coming over?" if they find me taking a shower or putting adult clothes on. Sad but true.)
Therefore, I am incredibly thankful of my most recent blogging discovery. Let me introduce Blissful Moments.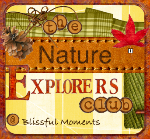 Jennifer, the writer of this blog, creates science lesson plans each week. Much like Carisa at 1+1+1=1, encourages and holds me accountable to playing and learning with my Tots, now Jennifer helps me enjoy nature with my children and provides an easy lesson plan for me to follow. Each week, just like Tot School, I can link up and share with other moms who are doing the same thing. We can encourage and learn from eachother.
On the day I chose to do science, we all went outside. (I stayed in my pj's, but the boys got dressed.) With camera in hand and Mr. Smiley in the stroller, we gathered blooming, dried, and dead flowers for our experience with science. We were going to study plants from "flower to seed."
Along the way, we spotted this butterfly having her morning cuppa'.
This is our collection of various flowers around our house and in the garden. The boys began by tearing the flowers apart. It really hurt my eyes to do this to God's beautiful creation, but the boys delighted in destroying the flowers and learning what parts were actually in the flower.
Mr. Smackdown singled out the sunflower and took the flower apart layer by layer, seperating the parts as he went.
Mr. Me-Too also had fun. But he is only 3 and well . . . he is 3. But he did have fun cutting up the flowers and entertaining Mr. Smiley at times.
And while our dissection occured, Mr. Smiley entertained himself by discovering how his brother's Big Wheel worked. He made plenty of race car sounds and enjoyed steering his new vehicle.
I know that Jennifer's blog will bless our family. I already saw the blessing, kind of, of doing this simple science lesson. Yesterday, I gave Mr. Smackdown our old digital camera. It became his quest to go on a nature quest and capture God's creation in action. Ummm . . . . he took over 400 pictures.
Like mother, like son.