Nature Explorers: Habitat
Nov 7, 2009
This post may contain affiliate links. Additionally, remember that I am not a doctor and any health statements must be verified by your doctor. Read my full disclosure policy
here
.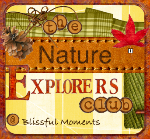 Finally. We made it outside. It's good to be back with this lesson included in our week. My pictures may look like it was a glorious time, but as any mom can tell you . . . sometimes getting everyone out of the door can be slightly difficult and keeping everyone happy can be even more difficult. (I only tell you this, because I want you to realize that I am a REAL person. It looks like we do a lot in our week, but remember that I just like to take a lot of pictures.) Thankfully, our outing was just outside our backdoor and we were able to get home in time before everyone fell apart.
Nature Explorers . . . . Habitat.
We played Habitat Bingo that Jennifer created and discussed all of the different habitats, what animals would live there, what their homes would look like, and what food they might eat.
FYI: various habitats include oceans, forests, fields, ponds, swamps, your home, etc. A habitat is a place where a plant or animal lives.
We got out of our PJ's and entered the great outdoors. It was a REALLY sunny day.
The first habitat we discovered was under the bark of this tree that fell down in a storm. The boys discovered ants.
On our return, this same log provided exercise for a Daddy Long Legs.
Mr. Smackdown found a leftover dinner from some lucky insect.
We discovered a bird's nest.
Acorns were found and collected, in the same place that we turned over a log to discover fungus, ants, and rolly-polly's.
Despite the thorns, a slightly different habitat was found in the woods . . . a miniature wetland. The boys had to work together to get out of this particular prickly situation.
And what would be an adventure, without a bit of climbing?