No Dishes for Dinner Beef Jerky
Jan 30, 2013
This post may contain affiliate links. Additionally, remember that I am not a doctor and any health statements must be verified by your doctor. Read my full disclosure policy
here
.
It wasn't fancy. But this was how I handed dinner to the Engineer.
No dishes.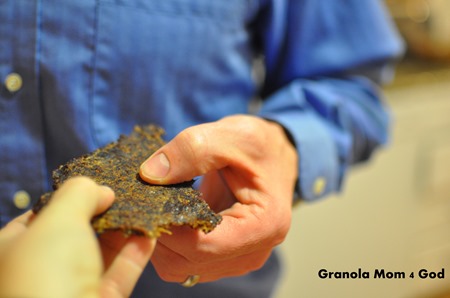 I'll admit, he appeared a bit surprised. His hamburger was a bit dry. He didn't complain.
What it lacked in dryness it made up for in taste.
Just ask Sweet Pea.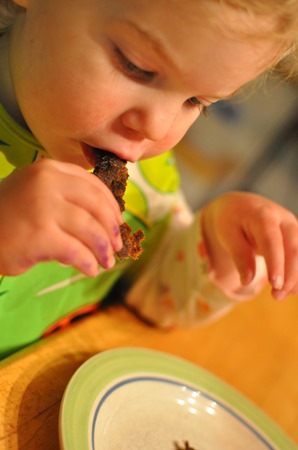 To make your dried hamburger, you need a dehydrator or an oven. Nothing fancy.
No Dishes for Dinner Beef Jerky
Ingredients
1 lb organic ground beef
3 Tbsp raw honey
1 Tbsp tomato paste
1 Tbsp Fermented Soy Sauce
1 Tbsp chili powder
2 tsp Cetic Sea Salt
1/2 tsp pepper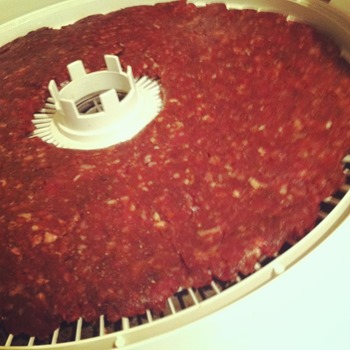 Procedure
In a large bowl, combine all of the above ingredients. You can use a fork (which I did) but your will find that using your clean hands is more fun. Have you kids do this.
If you have time, allow meat to mingle with ingredients in the fridge overnight.
Flatten wet jerky into a thin sheet on your dehydrator on cookie sheet. (1 pound fit nicely on one tray of my American Harvester dehydrator.)
Dehydrate at a low temperature in your oven or on the setting your dehydrator specifies for meat anywhere from 4-12 hours. (Mine worked its magic blowing air at 155 degrees.) Monitor your jerky's progress and eat when dry texture is achieved.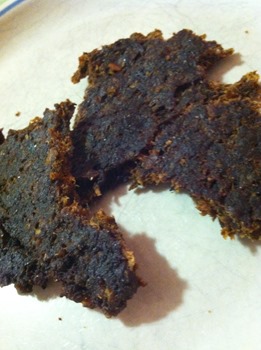 I suggest you store in the refrigerator to inhibit mold, as you are not adding any preservatives. Our beef jerky didn't have time to even cool. We ate 1 pound a wee bit quicker than I would have liked.
I wish I didn't have to share that no-dishes dinner.