Our FAVORITE Snack. Seriously Good.
Sep 11, 2014
This post may contain affiliate links. Additionally, remember that I am not a doctor and any health statements must be verified by your doctor. Read my full disclosure policy
here
.
I've been thinking a lot about food. It's just such . . . a time consuming "issue" in our house. We RARELY eat out. And we aren't able to eat with freedom these days. We have a lot of different diets that are plated in our kitchen.
And a ton of veggies and ferments that must be prepared.
So, I value quality nutrition that is easy.
Simple.
OK . . . packaged. I admit it.
The kids' favorite snack (besides Monkey and Peppermint Spinach smoothies), are Spicy Beef Jerky sticks from Nick's Sticks. I eat them two at a time. (Shh!)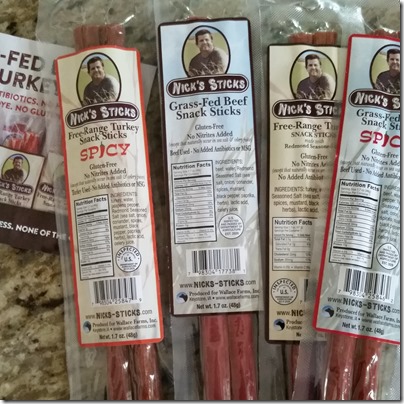 But the Engineer isn't supposed to eat beef, as he is on an anti-inflammatory diet.
Quite honestly, I initially purchased the Turkey Nick's Sticks for him because there is so little these days that the Engineer can eat that is (that is enjoyable and tasty and quick to prepare.
Nick's Sticks are made from free range, happy turkeys AND they are not only gluten free but nitrate free. They are "all the goodness and none of the garbage."
You can understand the ingredients.
Sold.
We can't keep them in stock. So I bit the bullet and signed up for a monthly delivery. 'Cause you know how much I love not driving to the grocery store.
The best part? Nick's Sticks fit into our Noah Diet (aka Paleo) and GAPS protocol!
Coupon Code for Nick's Sticks – ends tonight
For a little while longer . . . like until 11:59 pm tonight, you can receive up to 14% off!
Save 10% on all orders up to $50
Save 12% on all orders of $50-$100
Save 14% on all orders over $100
Head on over to the Nick's Sticks website to make your snacking easier! Use coupon code: BACK2SCHOOL.
What snacks do you like to eat?