Thankful Tuesday
Feb 10, 2009
This post may contain affiliate links. Additionally, remember that I am not a doctor and any health statements must be verified by your doctor. Read my full disclosure policy
here
.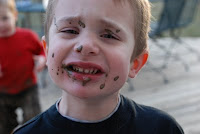 Don't get me wrong, I love snow.
However, it was a treat to have some warm weather with sun yesterday.
I am thankful for a God's eye glimpse into spring–fresh smells, green grass, sweet composting leaves, and sprouts in my garden.
While the boys moved massive amounts of mud in our pretend lake, I moved copious amounts of winter dog poop (you thought I was going to be poetic, didn't you?). We pulled out the sand table, stripped off the coats, and abandoned hats.
As I look forward to warmer days, I will still smile should we be blessed with the white snow that reminds me of the daily cleansing bath I receive from Jesus. In a nutshell, I am thankful for mud.