The Strawberry Slushie
Jun 14, 2012
This post may contain affiliate links. Additionally, remember that I am not a doctor and any health statements must be verified by your doctor. Read my full disclosure policy
here
.
We were enjoying a book picnic.  Albeit crowded with Ruth joining us.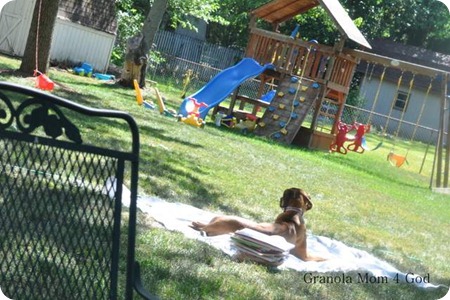 And it was warm.  No – hot.  Especially with Ruth pressed tightly against me with her prickly, hot hair.
It was also near snack time and my back desperately wanted relief from the awkward angle I had placed it in as chief librarian.
Our Green Bean delivery had just arrived.  I knew that it contained strawberries.  I had, after all, ordered them.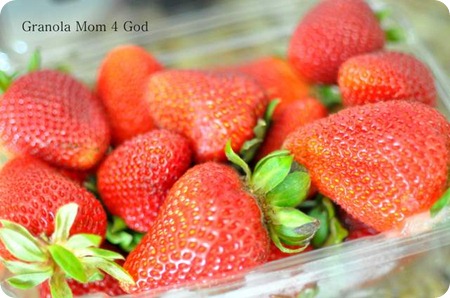 I wanted to do something with these red beauties before nature decided to eat them herself by utilizing that fine fuzz that moves in unannounced.  Not wanting my finger to encounter mold the next day, and refusing to waste time by looking up a recipe (which would basically lead to 30 minutes of pure distraction on the computer), I used my higher thinking skills to bring my children (and you) a Vitamix Strawberry Summer Elixir (minus the alcohol).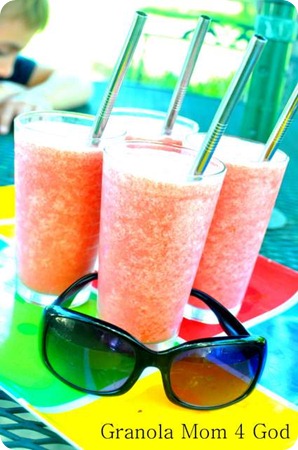 It features something from the pantry that quite honestly I needed to get rid of.
Coconut water.
This nutritious liquid comes from . . . . drum roll . . . a coconut – a young one.  You know that the coconut is young because – it is green.
It's a little green behind the ears, you might say.   (I crack myself up.)  It is rich in vitamins and minerals, making it the perfect beverage after a muscle destroying building workout.
It boasts of the ability to minimize aging, destroy cellulite, increase metabolism, and help alleviate such maladies as the flu, the runs, those plugged up bathroom moments, worms, and eczema.
You can even make water kefir soda with it.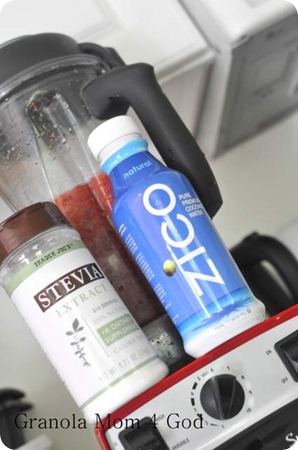 Summer Strawberry Elixir
Ingredients
1 pint strawberries (wash but leave the stems on)
1 14 oz bottle Zico Coconut Water (or similar brand)
2 tsp Trader Joes Stevia (this is the only Stevia I like)
1-2 tablespoons coconut oil
3-4 cups of ice, depending on  you drinking preferences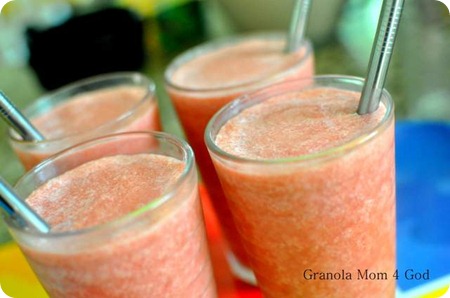 Directions
Dump package of strawberries in the Vitamix.  Why include the stems? Because you can.  And they contain . . . you know . . . good stuff.  Actually, the reason I encourage you to is because the Vitamix lady at Costco told me to.  She said there were "nutrients" in the stem.  OK.  Plus . . . less work.  Pure and simple.
Add coconut water and Stevia.  Blend at whatever speed you like.
With Vitamix running, allow ice to shimmy through the hole carved out on top of the Vitamix lid and down into the swirling sea of red.  I initially was only going to use two glasses of ice but found myself with a fourth glass to acquire the correct consistency.
With machine running on HIGH and the dial set to #10, NOW add your coconut oil.  This is imperative or you will have chunks of coconut oil in your smoothie, which doesn't go over real well with the kiddos.