Third Grade 2014-2015
Nov 1, 2014
This post may contain affiliate links. Additionally, remember that I am not a doctor and any health statements must be verified by your doctor. Read my full disclosure policy
here
.
He is a miniature version of his father.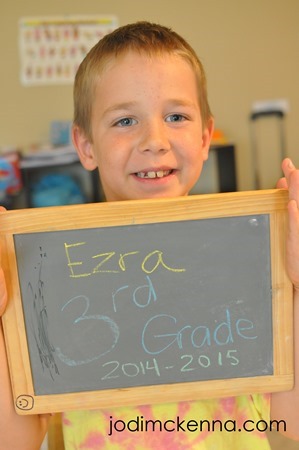 Except, lighter colored hair that doesn't curl.
He has a laugh that tickles your belly and is sensitive to the needs and emotions of others. He can't get enough hugs . . . or back massages. If you ever need popcorn or an afternoon mocha made, he is your man.
Ezra is in 3rd grade this year and sometimes . . . I feel like he is zooming through the year quicker than I can grade his math homework.
What Does a 3rd Grader Learn?
Each morning, you will find Ezra working independently on,
Teaching Textbooks Level 4 – He uses the computer initially. After answering all of the problems, I have him do the workbook independently at his desk, making sure to show his work and the process.
A Reason for Handwriting Cursive – His writing is nicer than mine!
Wordly Wise 3 – there are parts of this book that I don't like but it has proved fodder for discussion.
tracing the United States map – this is an important part of Classical Conversations this year. Our focus is on United States history and geography.
reviewing Classical Conversations weekly statements
practicing guitar – we have continued to take lessons from our friend, Rob. Ezra can play Happy Birthday excellently!
In the afternoon, he works with me completing,
First Language Lessons – we do not do this every day! We are probably lucky to accomplish a lesson two times a week.
Awana bible verses to memory – Ezra often works on this independently, but I help quiz him.
moving the laundry along – what would I do without this boy!
history with Beautiful Feet Books — we just finished up with Columbus . . . moving on to Pocahontas. (see this blog post)
All About Reading Level 4 – see my review here. This is probably the best level yet!!
Extra Activities include:
Classical Conversations
Taekwondo
Awana