Titus Keepers Sale
Dec 5, 2011
This post may contain affiliate links. Additionally, remember that I am not a doctor and any health statements must be verified by your doctor. Read my full disclosure policy
here
.
I have been using the most amazing lotion the past couple of weeks.  I'm going to tell you more about it, but not before the sale ends.
If only I had a before and after picture to show you of my hands. 
I suppose I could allow my hands to go back to their hangnail, sandpaper, alligator-like texture . . . . nah!  In general, I detest using lotion.  I have a serious texture issue when rubbing lotion into my skin, akin to the sound of fingernails on a chalkboard.
The Titus Keepers Miracle Cream has the consistency of French Silk Pie (except white).  While it appears oily upon contact, don't be fooled.  The Miracle Cream is quickly absorbed, leaving your hands soft and suede-like (instead of like leather).
And if I wait to allow my hands to return to normal – just to show you, the Titus Keepers sale will be over.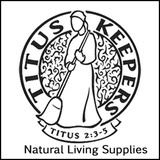 December 7th . . . until then you can receive 20% off of all products. 
Are you wondering why I care?  I am bloggy friends with the shopkeeper of Titus Keepers, Jess.  I have been eyeing her products for quite some time . . . and then I noticed a special that she was having a few weeks ago . . . and I contacted her. 
Now I am contacting you.  She's not paying me . . . I love to give unique gifts . . . and I want to help you give unique gifts . . . but I really want more people to know about Jess. 
I truly think that Jess has some great products that would make for meaningful gifts this Christmas – they even would fit in those stockings! 
I have been enjoying the facial astringent, wonder grains, miracle cream and facial steam herbs.  Jess also carries cleaning products. 
Which Titus Keeper product are you interested in?