Tot School 10/25/09
Oct 25, 2009
This post may contain affiliate links. Additionally, remember that I am not a doctor and any health statements must be verified by your doctor. Read my full disclosure policy
here
.
I just realized that I am not ready for Monday to start. Our colorful trays are not filled with activities and Lego's are all over the school tables. Returned maternity clothes (no, I'm not pregnant) lay in heaps on the school floor. And I still have yet to decide if tomorrow we will take Mussie to the Dog Bakery to celebrate her 8th birthday.
Will I get up early in the morning? That depends on how late I stay up tonight. I really do so love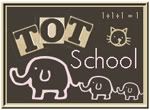 so I may pull myself out of a hard slumber to delight the boys with new trays, resembling unopened packages under the Christmas tree to these Tot School boys.
Though I delight in sharing about Mr. Me-Too's Tot School I have come to realize that I have been grossly negligent in documenting Mr. Smackdown's education! I shall have to ponder adding an additional post and linking up with

Life moments happened first . . .
Last weekend Mr. Smackdown went on his 2nd backpacking trip with Hottie Hubby. When the boys turn 4, they begin learning how to survive in the wilderness.

Because the absence of his brother and father left Mr. Me-Too rather sad, we journeyed to my parent's house for some love from Nana and local flavor from Traders Point Creamery. I view trips to a working farm as educational due to the fact that it is important to learn where your food comes from!

I didn't mention to Mr. Me-Too that a few of these cows might end up on our dinner table in a few weeks.

My mom loved this distinguished fowl.

Thanks for the future milk that will make our cheese and yogurt!
Isn't that precious?
Back in the classroom . . .

We began with stringing alphabet letters.

I was surprised that this was the first activity that Mr. Me-Too chose. They interacted with these letters for a long time. I think that is why there are so many pictures of plastic letters–I was entertaining myself.

Notice the peanut butter still on his hand from snack time!

I decided that we would study the Letter D another week. I still have a few more activities I would like to accomplish this coming week regarding the Letter D, but have yet to decide if I will abort this letter and move on to the Letter E.
Using FIAR as our guide we read The Ugly Duckling. I printed some story cards from ABC Teach about The Ugly Duckling and the boys put them in sequential order as I read the story. Later they colored the cards.

Continuing with our feelings lapbook, Mr. Me-Too colored the face orange and looked for orange objects around the house.

It isn't uncommon to find Mr. Me-Too showing off his yoga moves. It is no wonder, the boys often do The Biggest Loser Weight Loss Yoga with me. I love yoga because it develops the core muscles, teaches balance, encourages controlled strength, and stretches my aging muscles!

This is my attempt to create a game. The boys were given dice in a bottle. They shook the bottle up and dropped the dice on the tray. Whatever number was face up on the die, that is how many counters they put on the 100's chart. The idea was to keep throwing the dice until their charts were completed.

Mr. Smackdown was totally in love with this activity. However, it was a bit time consuming and tedious for my little tot!

I found him simply placing his counters in the squares. It works!

With the addition of our new Mini Dell (thanks for all of the good suggestions of names), I have been allowing the boys some free play on the computer. They have done really well with Starfall. I like Starfall because it is pretty self-explanatory and the particular area they are playing in is all about the letters of the alphabet. The boys have really enjoyed the freedom they have had to use an adult toy!

The D worksheet is a Handwriting Without Tears line structure from ABC Teach. This was a bit challenging. I ended up guiding his hand. But I tried to make a big deal out of holding his pencil correctly. He did a great job!

Counting Bears are always a big hit. It can be hard to distinguish the red from the orange in our set! The cards we used work on following patterns and completing the pattern.

In AWANA Mr. Me-Too has been learning about creation. So, I just drew a moon on a black piece of paper and he placed star stickers on the page. This was a great fine motor activity.
We journeyed to Ohio to see our good friends and their new house.

Mr. Me-Too has missed his buddy!

Our friends have lots of ladybugs and toads! This poor toad got abused and carried all afternoon!

Snack time came with local entertainment . . .
A street sweeper!

Back at the ranch . . . the week finished up with a Discovery Toy insect counting game.

Valerie (you know, the Lapbook lady!) at Christian Preschool Printables (I just gave you three different links for her stuff) provided the conclusion to our week with some Dog Bone counting.

Cutting . . . I was so excited because Mr. Me-Too began to use his left hand to better support the paper as his scissors moved up with his right hand! Coordination here we come!

Remember the colorful foam pieces from last week? Hottie Hubby enlarged the pieces on the scanner and voila . . . we turned the foam pieces into a sorting game.

That ended in dog bone crackers.