Tot School – 2 weeks worth
Nov 15, 2009
This post may contain affiliate links. Additionally, remember that I am not a doctor and any health statements must be verified by your doctor. Read my full disclosure policy
here
.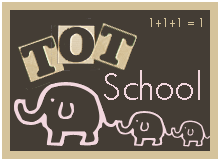 Well, we've been sick. I'm a little baffled by this, being granola and all. However, I do know that a lack of diligence to wash hands after field trips to the store, forgetting to apply Thieves Oil to our feet, living in close proximity to each other, and allowing various sugary splurges and processed foods into our lives can and do lower immunity.
Being a full time nurse has curbed my blogging, kind of. Actually, I just didn't do my Tot School post last Sunday. I was worn out from 3 sleepless nights.
The pictures are in any particular order . . . and my comments will be brief. But I want to blog about it because it helps to hold me accountable, document our school, and spur me on to plan for the following week.
Tot Trays
Chenille Alphabet Letters
Handwriting Without Tears Letter Cards
Letter E HWT practice from www.ABCteach.com.
E Elephant coloring from www.ABCteach.com
Do-A-Dots
Thanksgiving copper frames from Oriental Trading. (Not for children who struggle with fine motor skills. Not that I would know.)
Melissa and Doug magnetic fishing puzzle, sorting alphabet letters and sorting bottle caps according to size, shape, and color.
Workbook number pages, Brown Bear board game, yoga, and 800+ photo shoot
Visit to Mary Beth–our herbalist, AWANA practice, shopping for Operation Christmas Child
Sorting colored marshmallows and picking them up with a toothpick.
Alphabet Suitcase puzzle
Alphabet magnets—the boys matched the letters
Mathletics . . . an online computer program that we are reviewing. I love it!
But it can be hard to make a brain work . . .
Sorting the stacking block, separating beans and attempting to grow them like the little boy in the book, The Carrot Seed that we are reading for FIAR
WHEW!